3rd District County Commission candidate Tony Klamm
July 30, 2008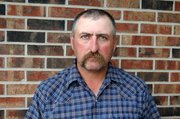 Tony Klamm is running in the Aug. 5 Republican primary for Leavenworth County's 3rd District County Commission seat, facing Beverly "Bev" Oroke, John Flower, Francis Hurla, Dave Taylor, William "Bill" Merkel and Marvin Torneden.
This chat has already taken place. Read the transcript below.
Moderator
Good evening. This is Estuardo Garcia, reporter with The Tonganoxie Mirror, Basehor Sentinel, Lansing Current and Bonner Springs Chieftain. I'll be your moderator for this online chat with Tony Klamm. We have several questions for today's chat, but we're still accepting questions. Remember to keep refreshing the page to update the chat.
July 30, 2008at 5:02 p.m.
Tony Klamm
Hi - I'm Tony Klamm, 3rd District Leavenworth County Commissioner candidate. I'm happy to be here and looking forward to answering questions.
July 30, 2008at 5:03 p.m.
Moderator
Mr. Klamm thanks for joining us today. Before we begin could you take a little time to introduce yourself?
July 30, 2008at 5:06 p.m.
Tony Klamm
I'm a life-long resident of Leavenworth County and a farmer (full-time) and realtor (part-time). I farm property that has been in my family since the mid-1800s. I live on the farm with my wife, Jeanette, and two sons, D.J., who is 8, and Brett, who is 6. We are active members of the community in many ways. I'm interested in being County Commissioner, because I want to improve the county in which we live in and think that I have ideas and insight to make Leavenworth County a good place to live as well as provide opportunities for our children.
July 30, 2008at 5:12 p.m.
Moderator
Thank you. Mr. Klamm, how do you propose the county get ahold of ever-rising gasoline costs before they break our budget?
July 30, 2008at 5:14 p.m.
Tony Klamm
Gasoline costs are affecting everyone right now and although recently we've seen a small decrease, I believe that that is only going to be temporary. A plan for conservation, removing unnecessary driving from county staff routines and converting to vehicles that have better gas mileage as vehicles are replaced. This may include replacement vehicles that use alternative power such as electric cars. There is also the use of used motor oil (filtered, etc.) in diesel engines such as graders and other heavy equipment that the county operates. Grease from restaurants and other uses can also be converted to biodiesel and used in the county diesel vehicles with no adverse affects and more environmentally friendly. I'm considering some of these options on my own farm and they would be part of an overall more fuel efficient program that the county could undertake. Some of these ideas could be implemented rather quickly; others may have to be worked into over some time.
July 30, 2008at 5:24 p.m.
Moderator
Thank you. Mr. Klamm, what is the No. 1 action the commission can take to improve economic development?
July 30, 2008at 5:26 p.m.
Tony Klamm
I think that the most immediate action is to promote Leavenworth County for the strengths that we have - a good work force, rural atmosphere, proximity to Wyandotte and Johnson Counties as well as Lawrence/Douglas County area. Longer term actions could include actively seeking out industry/businesses to relocate or start up in the county. This would also include retail, wholesale, and distribution centers, as well as the service industry in the area. This may also include working closely with the municipalities (Leavenworth, Lansing, Tonganoxie, Basehor, etc.) to assist in offering these industries/businesses some of the resources that they need to function in the county.
July 30, 2008at 5:33 p.m.
Moderator
Thank you. As far as promoting what the county already has, what is your view of a "buy-local-first" policy for the county?
July 30, 2008at 5:38 p.m.
Tony Klamm
The buy-local-first campaign can be a good public promotion and should be used whenever possible and if the product/service is located locally. Unfortunately, at this point, that is not always possible. With the huge draw from Wyandotte County (and Johnson County) for everything from entertainment to shopping to the variety of restaurants and other services, it's difficult to compete against that. And as I said, some may take some time to implement. Fortunately (and unfortunately) with the increase in gas prices, people may be more inclined to shop closer to home and seek entertainment closer to home instead of putting on the extra 10-20 miles to go somewhere else. With possibly attracting a wider variety of stores/services/etc., it may be more of a reality that people will spend their money locally. I just see all the sales tax money going to neighbor counties and want to look for ways to keep some of that money here to be used to better our communities.
July 30, 2008at 5:46 p.m.
Moderator
Thank You. We have time for one more question. Going back to your statement about working closer with other municipalities in the county, would you support conducting county commission meetings on a semi-regular basis in either Basehor or Tonganoxie, to give people in the southern part of the county a chance to attend?
July 30, 2008at 5:48 p.m.
Tony Klamm
I would be very interested in working with the other commissioner to make that happen. Of course, that would also include occational meetings in the northern part of the county to assure that citizens have the opportunity to participate there too. I want to take every opportunity to include the public in the decisions that we make. That may not always include a vote, but definately here what the public has to say (formally or informally) on the topics of interest to them. This also includes making an honest effort to educate the public on the initiatives and topics that the commission is discussing by explaining the reasoning, positive and negative aspects, and benefit to the community that we hope to achieve. Whether this is through moving the meetings to other parts of the county to get public participation or by getting out and discuss the county happenings with the public in organizational meetings, one-on-one. I think it is important to include the public and educate them on the county government happenings as much as possible. This is something that we have not seen enough of in recent years and I want to set a new trend for this type of public involvement.
July 30, 2008at 5:55 p.m.
Moderator
Mr. Klamm, thank you for participating in this chat with us. Is there anything else you would like to say about yourself or your candidacy for the commission seat? I would also like to remind the readers that our next chat will be held tomorrow at 1 p.m. We will be welcome Republican John Flower, who is also running for Leavenworth County Commissioner, District 3.
July 30, 2008at 5:56 p.m.
Tony Klamm
I want to thank you for taking the time to include me in this web chat. I hope that I have the opportunity to represent the citizens of southern Leavenworth County and try to make a positive difference in the County for now and well into the future. I'm not looking for something to pad a resume or put on my bio. I'm not looking for recognition or notoriety. I'm just interested in making Leavenworth a better place for our children to live and work. Yet maintain the flavor and the ability for people like me to continue to make a living without being pressured by high property taxes and developments. I believe there is a place for everything and room enough for us all and want to help to mold Leavenworth County into a place that we can all be proud of.
July 30, 2008at 6:03 p.m.