Wedding
Wacker and Sweet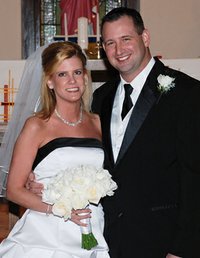 Alison Marie Wacker and Brian Michael Sweet were married Nov. 24, 2007, at St. Paul Lutheran Church, Leavenworth. The Rev. Ed Mease officiated.
The bride is the daughter of Martin and Sue Wacker, Lansing. She is a graduate of Lansing High School and Pittsburg State University. She is employed as an Investigations Assistant for the Leawood Police Department in Leawood.
The groom is the son of Leroy and Cathy Reamer, Nunnelly, Tenn. He is a graduate of Marlette High School, Marlette, Mich., and Park University. Brian has been in the Air Force for 11 years and is employed as a Systems Engineer for Aegis Technologies Group, Fort Leavenworth.
The bride was given in marriage by her father.
Angela Wacker, sister of the bride, Lansing, served as maid of honor.
Bridesmaids were Gail Marsh, cousin of the bride, Newton; Misty Barnett, Gladstone, Mo.; and Kimberly Russell, cousin of the bride, Leavenworth.
Kimberly Lauderdale, Lenexa, served as the bride's personal assistant. Ariana Bradford, Leavenworth, served as flower girl, and Gage Marsh, Newton, served as ring bearer.
Mark Atkins, brother-in-law of the groom, Memphis, Mich., served as best man.
Groomsmen were Chris Groves, cousin of the groom, Lyles, Tenn.; Bruce Cox, Platte City, Mo.; and Roland Griffin, Leavenworth.
Vocalists Nancy Berardo, Shawnee, and Heather Swartz, Leavenworth, friends of the bride; provided music for the ceremony.
Ushers were Jason Marsh, Newton, relative of the bride; and Stewart Oxley, Tonganoxie.
A dinner dance reception was held at the Leavenworth Riverfront Community Center, Leavenworth. Jeremiah Nichol, JF Productions, provided the music.
The couple currently resides in Leavenworth.
Engagement
Van Fleet and Marah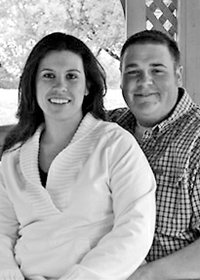 Ashley Van Fleet, Tonganoxie, and Kenneth Marah, Basehor, announce their engagement and upcoming wedding.
The bride-to-be is the daughter of Bill and Tammi Van Fleet, Tonganoxie. She is a 2006 graduate of Johnson County Community College and a 2004 graduate of Tonganoxie High School. She is a dental assistant at Piper Family Dentistry and also is employed with Van Fleet Excavating.
The prospective groom is the son of Vivian Marah, Basehor. He is a 2001 graduate of Kansas City Kansas Community College and is a 2000 graduate of Lansing High School. He is an EMT with Leavenworth County EMS and the Fairmount Township Fire Department.
The couple plan a June 14, 2008, wedding at High Prairie Church, 26480 187th St., Leavenworth, with a reception at the George Meyn Community Center in Kansas City, Kan.