Engagement
Thornton and Bailey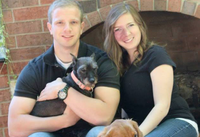 Daryl W. Thornton and Robin S. Thornton of Augusta, KS are happy to announce the engagement (June 1, 2013) of their son, John M. Thornton (25), to Janae E. Bailey (26), daughter of Lisa Hergensheimer and Kevin Bailey and Lesli Bailey (step-mother) of Bonner Springs, KS.
John and Janae feel very blessed and excited about their forthcoming marriage. They would also like to recognize John's grandparents: Jim and Evelyn Spring of Kansas City, MO and the late Humphery and Violet Thornton formerly of Augusta, KS. Janae's grandparents are Alice Hergensheimer and the late Paul Hergensheimer.
Grandparents Ray and Ellen Bailey reside in Bonner Springs, KS. Janae graduated from Bonner Springs High School in 2006. She is employed at PT Plus in Augusta, and wishes to pursue a degree in elementary education.
John graduated from Augusta High in 2007 and later Kansas University in 2011 with a BGS in History. He is currently working at Robinson Elementary while pursuing his Elementary Education degree through the Butler/Emporia-St Students to Teaching Program.
He will be student teaching in the fall. The wedding will be held at the Lake of the Forest Club House in Bonner
Springs, KS on June 14, 2014. Pastor Jimmy Crabb of New Life Baptist Church in Newalla, Ok will officiate the marriage. The couple plans to reside in Augusta, KS.