Wedding
Thornton and Bailey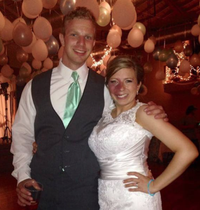 Daryl Wayne Thornton and Robin Sheryl Thornton of Augusta, KS are happy to announce the marriage (July 14th, 2014) of their son, John Michael Thornton (25), to Janae Ellen Bailey (27), daughter of Kevin S. Bailey and Lesli, and Lisa Hergesheimer and Gregory Hand.
John and Janae feel very blessed and excited about starting their life together,and want to thank God for all of us His wonderful blessings. They would also like to recognize John's grandparents: Jim and Evelyn Spring of Kansas City, and the late Humphery and Violet Thornton formerly of Augusta, KS. Janae's grandparents are Alice Hergesheimer and Ed Esury and the late Paul Hergesheimer of Bonner Springs, KS. Grandparents Ray and Ellen Bailey reside in Bonner Springs.
Janae graduated from Bonner Springs High School in 2006. She is employed at PT Plus in Augusta, and also operates her own business (Four Paws Pet Grooming).
John graduated from Augusta High in 2007 and later Kansas University in 2011 with a BGS in History. He is currently student teaching at Garfield Elementary while pursuing his elementary education degree through the Butler/Emporia Students to Teaching Program. He also works at Anytime Fitness, Augusta KS.
The groom's wedding party consisted of Daryl Wayne Thornton (Best Man), Kyle David Click, Benjamin Bailey, Lance Kelly, Kameron Michael Kontour, and Ryan Joe Vogel. Ushers were David Wayne Stephenson, Josh Zerger, Philip Bailey, and Tarek Khalidi. Ring Bearer was Bryce Wayne Stephenson.
The bride's wedding party consisted of Maids of Honor: Alison and Bethany Jo Bailey. Bridesmaids were Joy Nicole Stephenson, Ashley Maye Thornton, Melanie Moore, and Morgan Grabmiller. Flower Girl was Ava Joy Stephenson.
The wedding was held at the Lake of the Forest Club House in Bonner Springs on June 14 at 5:30 p.m. Pas- tor Jimmy Crabb of New Life Baptist Church, Newalla, Okla., officiated the marriage. The couple currently resides in Augusta, and attend New Springs Church in Wichita, KS.