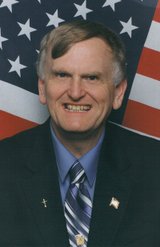 Online
Place of residence: 22622 W. 49th Terr., Shawnee, Ks. 66226
Birthday: 5 March 1949
Family: Wife, Nancy Cornelia Showen
Daughter, Celestine Elizabeth Murray, 27 Yrs. Old and Married
Religion: Roman Catholic
Education: A.A. Degree, Glendale Community College, Glendale, Az.
B.S. Aerospace Technology, Degree, Central Missouri State Univ., Warrensburg, Mo.
Occupation: 1980-83 Real Estate Broker, Century 21 Metro North Shopping Center
1983-1999 Passenger Elevator Constructor, Mechanic
Presently Retired
Political and Government Experience: Ran for U.S. House of Representatives, 3rd Congressional District in Kansas in 2006, no previous government experience.