Junior redesigns
LHS

Web site
Lansing High School junior Andy Armstrong is the creator and the face behind the school's recently redesigned Web site.
Armstrong started making changes to the pre-existing site last year as an assignment for his HTML class, but wasn't satisfied with the final product. Those changes took him a few days with the help of an outside programmer.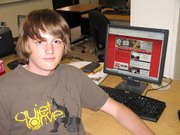 Armstrong said this redesign took longer because he wanted to make it more interactive and user-friendly. He created a new front page that holds more information, separate sections for sports and news, and links to separate photo galleries.
Armstrong said the site is easier to navigate and looks more professional.
"It represents the school a lot better," he said.
Dan Wessel, integrated media instructor, said Armstrong was one of the most talented students he's had in class.
Creating Web sites, video and other Web features is the key philosophy behind Wessel's class. He said many of his students know how to use technological features, but he wants them to know how to create their own.
He said when it comes to Armstrong, he doesn't know how much he is learning in the class because he came in knowing so much and his skills are utilized in the classroom.
Armstrong has been developing Web sites and creating design projects since he was 16. His interests spawned when he saw his friend's designs for Innate Media Group, a Web site and development company. He began teaching himself Photoshop and freelanced designs like CD art to Web companies.
For the past half year he has worked for Amped Media and he started his own company called HyperFormMedia, www.HyperFormMedia.com, four months ago.
Armstrong has a discriminatory eye when it comes to a school's Web site. He is already looking at top college and universities he would like to attend for Web design, and if their Web site isn't attractive, Armstrong isn't interested.
"Companies that are based off the Internet should have good-looking Web sites because if they don't it could scare people away," he said.
More like this story