Students use spring break to volunteer
Spring break destinations such as Acapulco or South Padre, with their nonstop parties and sandy beaches usually beckon Kimberly Garrison, but this year she opted for change.
Garrison, University of Kansas senior and a Basehor-Linwood High graduate, and Holly Robertson, KU junior and a Lansing High School graduate, spent an atypical spring break cleaning up after pigs, horses and dogs.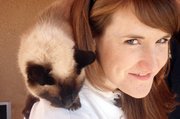 They traveled with five other KU students to the Best Friends Animal Sanctuary in Angel Canyon, Utah, as part of the university's Alternative Breaks program.
"I've been on typical spring breaks every year," Garrison said. "I felt too old and too mature to do that again. I really wanted to go somewhere I hadn't been and give something back and do something worthwhile instead of get drunk."
Alternative Breaks is a student organization that sends groups of seven students across the country to participate in service programs. Each student volunteer spends approximately $200 for his or her own travel and food.
Best Friends Animal Sanctuary is the country's largest sanctuary of its kind, home to approximately 2,000 animals that have been abandoned or have special needs. The volunteers cleaned and socialized with the animals.
Jill Simpson, volunteer coordinator for Best Friends Animal Sanctuary, said the KU volunteers were wonderful because they were motivated and excited to help.
Simpson said the sanctuary relies on the thousands of volunteers that help their staff of 200 throughout the year. She said Best Friends makes a lifelong commitment to the animals they adopt.
"If we can't find a home for them, we will keep them here," she said.
Robertson said she wasn't excited about the trip at first, because she thought all she an her KU companions would be doing was cleaning up after the animals. As it turned out, there was plenty of time to play with the animals, too.
Garrison said she fell in love with an incontinent cat named Dribbles. When she returned to Kansas, she became the cat's "guardian angel" in a program through the sanctuary. She donates money to his hospital care and sends him toys, she said.