Braves sweep Bobcats
B-L suffers 64-55 loss to Bonner in opener
It was a game that lived up to its expectations. The Bonner Springs Braves vs. Basehor-Linwood Bobcats season opener was a tight and tense contest played before a large crowd in the new gymnasium at BLHS. For Bonner Springs fans, the night was a perfect one with a 64-55 win.
It was a game that featured late heroics by Bonner's Sean Birdsong, Michael Cook, Gary Pinks and Chris Cobbins. The Braves never trailed in the game although the score was tied once in the second half.
"We just couldn't get over the top," said Dan Miller, the Bobcats' new head coach.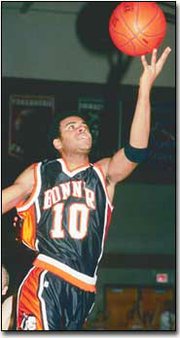 Basehor-Linwood got within three points of the Braves midway through the fourth quarter, 52-49, when Eric Peeler drained a short jumper at the 3:20 mark. Bonner's Michael Cook nailed a crucial trey at 2:50 to extend the Braves margin to 55-49. The play was typical of the frustration Bobcat fans felt. Every time BLHS was poised to move ahead, the Braves answered with a key play.
Free throws by Travis Fouts pulled the Bobcats within two with 1:32 left in the game, but Alfonzo Cole started a 9-3 Braves run in the final minute when he canned a baseline jumper.
Birdsong took over for Bonner Springs in the final moments, hitting three free throws, while the Bobcats hurt their cause with a couple of costly turnovers down the stretch.
The only tie of the game happened at the 5:12 mark of the third period when Brandon Fisher scored on a drive down the middle off a steal to tie the count at 31-31.
The Braves answered with an 11-0 run, helped by Birdsong with six points, a three-pointer from the side by Cook and an "old-fashioned" three-point play by Cobbins. The Bobcats, though, answered with a 6-0 run with Fouts nailing four points and Fisher adding a short jumper.
Bonner Springs battled foul trouble all night, although fans on both sides of the gym were far less than happy with the officiating.
Cobbins was tagged with his third foul in the first quarter and had to give way to Bonner sophomore Aaron Weathers, but Cobbins played the second half without any additional fouls.
Bonner Springs lost center Darryl Anderson early in the fourth period and power forward Joe Botts fouled out with a couple of minutes left in the game. This forced the Braves to operate with a shorter lineup down the stretch.
The final 1.2 seconds of the second period was a nightmare for the Braves. Anderson, the Braves' senior center, was tagged with a technical foul for grabbing the rim on a fast-break dunk. Jackie Kimlin hit both technicals and cut the Bonner lead to 31-27.
The Bobcats' defense kept the Braves from pounding the ball low to Anderson, who finished the game with 12 points. Anderson did have one monster dunk during the first half.
"They (Basehor-Linwood) are going to surprise people," Jim Bonar, Bonner Springs' head coach said.
Bonar said he was pleased with the overall performance. "We learned we can play without Darryl (Anderson) and Chris (Cobbins) and that's good for our team."
Naturally, Miller was disappointed in the loss that spoiled his boys' head coaching debut. "We made crucial mistakes. "When we threw the ball away, they took advantage of it.
"Birdsong was unbelievable," he added. "He is a fabulous player.
"I was pleased with the kids' effort," he said. "We will definitely get better."
Overall, Birdsong led the Braves with 26 points including 10-of-11 at the free throw line. Birdsong may have had the highlight play of the night with a steal and a slam in the second half. Cook came off the bench and bombed in 13 points including three treys.
Kimlin paced the Bobcats with 17 points and Fouts had 14 points.
Score by quarters:
Bonner Springs 15 16 14 19 64
Basehor-Linwood 11 16 12 16 55
Bonner Springs (1-0): Aaron Weathers 0-1 0-1 1 0, Sean Birdsong 7-16 10-11 1 26, Chris Cobbins 1-2 1-1 3 3, Gary Pinks 1-2 2-2 2 4, Michael Cook 5-7 0-0 1 13, Greg Forshey 0-0, 0-0 1 0, Tom Gardner 0-0 0-0 0, Alfonzo Cole 2-9 0-0 2 4, Daryl Anderson 6-8 0-0 5 12, Joe Botts 1-2 0-0 5 2. Totals: 23-47 13-15 21 64.
Three-point goals (5-14): Cook 3-6, Birdsong 2-5, Cobbins 0-1, Cole 0-2. Rebounds (23): Cole 6, Anderson 4, Birdsong 3, Cobbins 3, Botts 2, Cook 2, Pinks 2, Weathers. Assists (9): Birdsong 4, Cole 3, Cobbins, Cook. Steals (8): Birdsong 4, Weathers 2, Anderson, Pinks. Blocked shots (2): Birdsong, Cobbins.
Basehor-Linwood (0-1): Jackie Kimlin 5-12 7-8 2 17, Colby Kooser 0-1 0-0 3 0, Brandon Fisher 4-8 0-2 2 9, Mike Horn 3-4 3-3 3 9, Travis Fouts 5-9 4-9 4 14, Jake Hills 0-0 2-2 1 2, Brandon Dye 1-2 0-0 1 2, Eric Peeler 1-1 0-0 0 2. Totals: 19-37 16-24 16 55.
Three-point goals (1-6): Fisher 1-3, Dye 0-1, Kimlin 0-1, Kooser 0-1. Rebounds (25): Fouts 8, Kimlin 6, Horn 3, Fisher 2, Kooser 2, Team 4. Assists (10): Fisher 3, Fouts 2, Kimlin 2, Dye, Horn, Kooser. Steals (8): Dye 2, Fisher 2, Fouts, Kimlin, Kooser, Peeler. Blocked shots (4): Kimlin 2, Fisher, Fouts.
In the junior varsity contest, Basehor-Linwood broke open a close game in the fourth quarter and took a 45-25 victory over Bonner Springs.
The Bobcats had a 16-13 lead at the half and led by eight entering the final period, 25-17, before outscoring the Braves, 20-8, in the final eight minutes.
All nine BLHS players found the scoring column, led by Brian Gripka's 12 points. Sidney Birdsong paced Bonner with eight.
Score by quarters:
Bonner Springs 5 8 4 8 25
Basehor-Linwood 7 9 9 2 45
Bonner Springs scoring: Sidney Birdsong 8, Kenny Mack 4, Chris Stakely 3, Romie Hall 2, Aaron Weathers 0, Greg Forshey 0, Michael Cook 0, T.J. McGinnis 4, Ryan Hall 0, Jeremy Krug 0, Jared Gillespie 0, Tom Gardner 0, Devin Pino 0, Louis Reyes 4.
Basehor-Linwood scoring: Eric Laffere 5, Brian Gripka 12, Jake Hills 5, Charles Millison 3, Nick Verbenec 2, Brandon Dye 6, Jake Brown 2, Eric Peeler 4, Ron Gray 6.