New councilman ready to serve
Espinoza says he's ready for challenges of new position
Basehor's new city councilman is ready to hit the ground running.
Julian Espinoza was appointed to the Basehor City Council last month after Bob Vervaecke resigned his council seat.
Espinoza will fill the position until Vervaecke's term is up in April 2001.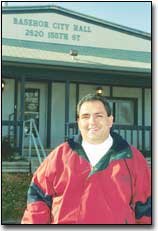 Vervaecke, who served as council president, recently told his fellow council members he planned to move outside the city limits and consequently would have to give up his seat.
Mayor John Pfannenstiel moved quickly to fill the position to ensure the council would have a quorum, or a majority of its five members, at the meetings.
Espinoza said he was surprised by the offer, but was willing to step in. Although he has only lived in Basehor a short time, he is a native of the area.
"I was quite surprised and flattered that my name came up as a possible candidate because of the short time I've lived in the area," Espinoza said. "I'm really excited about it. I've never done anything in a political position of this caliber."
The new councilman said he hopes to make a contribution to the city while learning more about the local government.
"I want to learn more about the city and how it works," he added. "My background in investments and financial (matters) and people skills will be an asset. My goal is to help the city run as efficiently as possible."
Espinoza will wait to decide if he wants to file for the position in the April 2001 election, but if all goes well, he wouldn't rule it out, he said.
"I don't know. This will be a learning experience," he said. "As long as I see I can make a difference, I probably will run for the seat."
Pfannenstiel said he expects Espinoza to adapt quickly and bring a fresh perspective to the council.
"At the November council meeting, he struck me as a person who is going to jump in with both feet and not hesitate to speak up on the issues," Pfannenstiel said. "We've given him some information to study, plans and a governing-body handbook that we've developed. I'm anxious to get his fresh outlook.
"We'll miss Bob Vervaecke who's been an asset to the council since 1995," the mayor added.
Pfannestiel said council members would select a new president at their next meeting.
Espinoza is a partner of Personal Investment Group in Olathe. He's a financial advisor who serves clients in Kansas, Missouri and several other states nationwide.
Since moving to Basehor in June of 1999, he has been active in the community. He is vice-president of the Basehor Chamber of Commerce and vice-president of PRIDE, a local community service group.
He also serves on the Basehor Community Library board of trustees and on the board of directors for the Southern Leavenworth County Leadership Development.
Espinoza and his wife, Stephanie, have four daughters ranging in ages from 15 months to six years.
He grew up in Bonner Springs, and lived in Edwardsville for 18 years. While in Edwardsville, he served on the city's planning commission for about six months. He also served as the athletic director for the City of Edwardsville.