Bravettes roll past Mill Valley, busy slate ahead
Putting it mildly, this will be a major upcoming week for the Bonner Springs Bravettes basketball team if they hope to reach their goal of 15 or more wins this season. The Bravettes, 2-0 thus far, play three games in four days. And maybe the best news is that all three games will be played at home.
The busy slate opens with Bonner Springs scheduled to entertain Kansas City Christian on Thursday night. Tonganoxie will play at Bonner Springs on Friday, and the Bravettes will close the pre-holiday portion of the season on Monday against Central High School of Kansas City, Mo. Central was added to the slate in November when Olathe Christian cancelled its girls basketball program.
Last Thursday, the Bravettes held on to defeat the Mill Valley Jaguars, 55-40, in a game played at Mill Valley. While Bonner Springs never trailed, they had to weather several periods of cold shooting and weave their way through a minefield of personal fouls.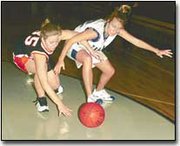 "We did a good job," BSHS head coach Garold Baker said. "Our defense wasn't as good as it was against Basehor. The girls played hard."
For most of the game, Mill Valley utilized a 3-2 defense that kept the Bravettes from pounding the ball to their taller low post players. Bonner Springs, on the other hand, responded with a perimeter attack including four three-pointers.
Bonner Springs led from the opening tip-off and Andrea Dill set the tone of the game when she canned a three-pointer in the first seconds of the period. Holly Thompson had six points in the first period and Morgan McConico added four points as the Bravettes sped to a 13-7 lead.
The Bravettes spent most of the night in foul trouble causing Baker to alternate lineups. Bonner Springs was whistled for 22 fouls in the game with Dill, Amanda Berry and Melissa Wiseman ending the contest with four each.
Mill Valley ended the game with 15 fouls, a fact that made Bonner Springs fans unhappy. And the normally mild-mannered Baker erupted and was tagged with a technical foul, his first in three years.
Despite all that, Bonner Springs' sticky defense was able to hold Mill Valley to just 14 field goals on 44 attempts for 31.8 percent. Mill Valley stayed in the game by hitting 13 of 22 free throw attempts.
The Bravettes led 27-20 going into the second half before going on a 14-2 run to move the lead to 41-22. Berry had seven points and Thompson had four points to key the run.
Mill Valley was never able to cut the lead below 15 points in the fourth period as Dill netted two straight treys in the quarter to tame any Jaguar hopes.
Bonner Springs struggled from the field, hitting 24-of-64 for 37.5 percent. They were worse at the free throw line, going three-of-16 for 18.8 percent.
The Bravette defense forced Mill Valley into numerous turnovers as Bonner had 17 steals, led by McConico with seven and Thompson with five.
Berry had a "double-double," leading the scoring with 20 points and pacing the rebounding with 10. McConico and Thompson each had 12 points and Dill finished with 11.
Score by quarters:
Bonner Springs 13 14 18 10 55
Mill Valley 7 13 9 11 40
Bonner Springs (2-0): Morgan McConico 5-7 0-1 1 10, Holly Thompson 5-13 0-2 3 10, Amittia Davis 0-1 0-0 0 0, Alicia Forshey 1-5 0-2 3 2, Melissa Wiseman 0-3 1-3 4 1, Katie Szewc 0-1 0-0 0 0, Holly Miller 0-5 0-0 0 0, Amanda Berry 9-17 1-1 4 20, Lindsey Stanbrough 0-4 1-7 3 1, Andrea Dill 4-8 0-0 4 11. Totals: 24-64 3-16 22 55. Mill Valley totals: 14-44 13-22 15 40.
Three-point goals (4-11): Dill 3-4, Berry 1-3, McConico 0-1, Miller 0-1, Thompson 0-2; MV 0-2. Rebounds (31): Berry 10, Stanbrough 6, Dill 4, Forshey 4, Thompson 4, Wiseman 3. Steals (17): McConico 7, Thompson 5, Wiseman 2, Forshey, Miller, Stanbrough. Assists (9): McConico 5, Forshey 2, Berry, Thompson. Blocked shots (1): Forshey.
Mill Valley won the junior varsity game, 48-31.
Bonner Springs jumped out to a 15-7 lead after one quarter before MVHS came back and outscored the Bravettes over the next three quarters, 41-16.
Amittia Davis had 13 points to pace the Bravettes.
Bonner Springs scoring: Jill Gardner 3, Bethany Gallagher 2, Liz Brown 0, Amittia Davis 13, Ashley Bush 0, Morgan Tuttle 6, Shayla Davis 2, Holly Miller 5, LaPourchea McConico 0.
Bonner Springs notes. . .
Bravette fans need to check the schedule as game times will vary during the coming week. The JV game against Kansas City Christian will start at 5:30 p.m. on Thursday, followed by the varsity contest.
On Friday against Tonganoxie, the girls' JV game will start at 4 p.m. at the high school gym, followed by the girls varsity game. The JV game against Central on Monday will begin at 5 p.m.
* * * *

Two Bonner Springs High School freshman boys' games have been cancelled, according to Garold Baker, athletic director the game at Maur Hill Prep on Dec. 6, along with the game at Atchison on Jan. 9. Neither school is fielding freshman boys' teams.
Baker also added that the freshman girls' game against Atchison on Jan. 9 has been moved to Bonner Springs.
* * * *

It's going to be a busy night for Bonner Springs basketball fans when the Braves and Bravettes play Tonganoxie on Friday.
The program includes girls and boys freshman, JV and varsity games, with both BSHS and Clark Middle School gyms being used.
The schedule at the high school gym will open with the JV girls at 4 p.m., followed by the girls' varsity game and the boys' varsity game. The schedule at CMS includes the JV boys' game at 4 p.m., followed by the freshman boys and freshman girls games.