High School students lend a helping hand
Some students from Basehor-Linwood High School go back to elementary school every day for classes. But it's not what you might think.
For one hour each day, about 40 BLHS students known as "Care Cats," go to Basehor Elementary and Glenwood Ridge Elementary to work as tutors or mentors for the children.
"Most of them (high school students) want experience in the classroom," said Teddi Stern, principal at Basehor Elementary. "We try to have them work on tutoring or mentoring type of activities and try to take them away from doing bulletin board and paper work; get them more active with the students.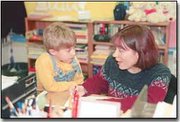 "We want them to be more of a tutor-mentor type of person. When you come to the school, a lot of times they'll be out in the hallway reading with students, either in small groups or one-on-one."
During their one-hour stay at the school, the Care Cats do a number of things, including guiding a small group of students in reading activities, helping them with math problems or even giving a vocabulary test.
"Each teacher utilizes them differently," said Stern. "I've seen them out in the hallways tutoring students, or they may do one-on-one sessions with students who are a little bit behind."
Third-grade teacher Lynnette Hatfield says her Care Cat, Jessica Miles, is a great help.
"She comes in the afternoon and we do "Read, Write and Share," and that's a time when the kids are individually reading on their own level. Jessica mills around and listens to them read and works one-on-one if someone is having a problem with something.
"She doesn't do that every day, but that's her main responsibility. She also helps me out with whatever I may need her to do. She's done everything from mix sawdust clay to getting ready for a Thanksgiving feast. She's really become my right hand."
April Staatz, a senior at BLHS and a Care Cat for Karen Liljestrand's first-grade class at Basehor Elementary, has enjoyed her experiences, which include giving a vocabulary test each Friday, working individually with students having trouble and walking around the classroom, answering questions.
"I love coming down here," Staatz said. "I think it's good because if you're interested in pursuing a career as a teacher, it kind of gives you an idea to what its like.
I want to work with kids. I'm not sure if I want to be a teacher or not, but the more I'm here, the more I look at doing something like that."
Fifth-grade teacher Debbie Mishler also has a Care Cat in her room for one hour in the mornings and she's a very familiar face. Mishler's daughter, Maggie, a senior, comes to her mother's room to help.
"I like having Maggie there because we can talk about things at home. It's been very beneficial," Debbie said.
Mishler said the Care Cat program is a very valuable one.
"It's helpful for those students who kind of fall through the cracks, who don't qualify to get extra help outside the classroom, and for teachers who get frustrated because they don't have time to get to all of the kids individually.
"With those who are struggling, it gives them some one-on-one time and they love working with the high school kids because they are good role models for them."
For the younger Mishler, working with the students may push her towards a career working with children.
"I'm thinking about a career in social services, not education, but still something that deals with kids. It has shown me how hard teachers have to work to get the kids to understand."
Though some of the Care Cats aren't interested in a career in education, Stern feels many of them want to do something that involves children.
"I think a lot of them are interested in doing some aspect with kids. I was talking to one of them the other day and I asked her if she was going to be a teacher and she said she thought about being a child psychologist," Stern said. "They want to be around the kids usually because they have some kind of soft spot for children."
Next semester, the program will be changing, as the high school students go through Youth Friends training. Following the training, the students will be used only for tutoring or mentoring.
But Stern feels Care Cats has served its purpose.
"I think it's a great program. I did the exact same thing when I was in high school. I worked with a first grade class for an hour and it was my favorite part of the day, and I ended up going into education," she said. "I think it's a great school-to-career type of opportunity so that students can see if they really want to pursue the education field. I think it gives them a great experience in the real world of working with students and (learning) what the benefits and pitfalls are of being a teacher."