Rare illness threatens life of local boy
What started as a muscle injury in Tony Holmes' upper thigh has turned into a rare, infectious virus that has the 11-year-old Bonner Springs boy battling for his life.
"It came up all of a sudden and there were no signs that he was sick no sniffles, no nothing," said Rhonda Holmes, Tony's mother.
Tony injured himself while wrestling with his brother two weeks ago. His mother took him to Providence Medical Center, where doctors said the boy had pulled a growth plate and needed to see a specialist.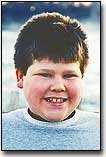 The day before Tony was scheduled to see the specialist, he collapsed and stopped breathing at his parents' house Wednesday, Dec. 13.
Paramedics rushed Tony to Providence, where he was flown by helicopter to Children's Mercy Hospital.
Doctors diagnosed Tony as having Group A Strep that developed into toxic shock syndrome.
"They said children can carry the virus without anyone knowing it," Rhonda said. "When Tony tore the muscle, the virus attacked it and then spread throughout his body."
Tony, known as T-bone to his family and friends, remains on life-support in the hospital's intensive care-unit. He is sedated to help his muscles and nerves relax so treatments will be more effective.
The virus has attacked Tony's blood system, causing cells to dissolve. The toxins also have spread into his organs.
Tony receives daily blood transfusions to help flush the infected blood from his system. His blood circulation fluctuates and doctors are concerned about his toes and feet; however, Tony has not underwent surgery.
The virus is rare among children and adults, with only 150 cases reported worldwide each year. Tony's condition was the most severe case doctors had encountered, Rhonda said.
The situation has been hard on Rhonda, Tony's father Brian, and brothers A.J. and Cody, but the family is thankful for the overwhelming support they have received from friends, neighbors and the community.
"You just don't know how much we appreciate the help and support of the community," Rhonda said.
She asks that the community continue to pray for them.
Although, Tony is stable and responding to treatment, there is a shortage of blood in the metro area. Tony has O-negative type blood, which is not common. Area blood banks are in need of not only O-negative and positive blood, but all blood types.
Several people in the community have been organizing blood drives in an effort not only to help Tony, but also to help other people in the community.
Matt Gilbert, 27, Kyle Chadwick, 7, and Alex Trent, 5, have all been diagnosed with Leukemia. The three are all currently in remission, but have undergone numerous blood transfusions over the past months. Family members say they organized a blood drive as a way of giving something back.
The two Bonner Springs families, the Gilberts and Chadwicks, along with the Trent family of Lawrence, will host a community blood drive from 2 to 7:30 p.m., Dec. 28 at the Bonner Springs Community Center. The families have added Tony to the list.
Because of the urgency of Tony's situation, those wishing to donate blood now, can contact Children's Mercy Hospital in Kansas City, Mo., to schedule a time to give blood.
A fund has been established to help the Holmes family because the parents will not be able to return to work for some time. Anyone wishing to make a donation can send it to The Tony Holmes Fund, Commercial State Bank, 309 Oak Street, Bonner Springs, Ks. 66012, Anyone needing further information about the fund can call Tracie Lamb at (913) 422-4592.
Anyone wanting further information about the blood drives or donating blood can contact Sonya Clements at (913) 441-4087.