Christmas Eve fire destroys apartments
After this, nobody can blame Lisa Hattaway and Sharon Stirling if the two women and their families believe in Christmas miracles. Scratch that last line, Christmas Eve miracles.
There were no injuries in an early-morning fire Christmas Eve that left four families living on Kindred Road in Bonner Springs searching for places to stay.
The fire broke out at about 7 a.m. Sunday in the four-unit apartment complex and took firefighters about an hour to contain. By the time the fire was out, approximately $200,000 in damage had been done.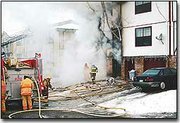 Bonner Springs Fire Chief Warren Hanks said all the residents who had been home at the time of the blaze were out of the building by the time fire crews arrived.
Hattaway, who lives with her husband, daughter, two dogs and cat, described the scene that morning as total chaos.
"There were people pounding at our front door and our back door," Hattaway said. "My husband and I bolted out of bed and by the time we got to the doors, the people were gone."
It didn't matter that the people were gone because their message got through loud and clear the moment Hattaway looked around.
"I stepped outside and saw this yellow ball of flames," Hattaway said.
Hattaway and her husband were able to get their daughter and their two dogs out. They couldn't find their cat, but hours later when firefighters allowed them back into their home, they were happy to learn the cat was fine.
Certainly, there are no winners in a situation like this, but Hattaway was much more fortunate than two of her neighbors. By being the farthest apartment from the area the fire started, damage to her property was limited to smoke damage and she is hopeful that most, if not everything can be saved.
Just two doors down, Sharon Stirling and her family were not as fortunate.
Stirling and her three children were home when the blaze began. She was sitting at the kitchen table when she heard some noise next door. Seconds later, she heard someone pounding on her door asking her to call 911. She managed to get her kids and her dogs out just in time to watch the neighbors' garage become totally engulfed in flames.
Hanks said electrical overload sparked the fire. Residents inside the unit where the fire began were using space heaters and electric blankets to keep warm. Hanks said the added strain on the building's electrical system was simply too much for it to take.
The apartment where the fire actually started at 121 Kindred was completely gutted in the blaze and Stirling's adjacent apartment at 119 was also substantially damaged. According to Bud Moran, the owner of three of the four residences, the two apartments at 121 and 119 were the most heavily damaged will be torn down as soon as possible and later rebuilt.
A third apartment at 117 received some damage from smoke and water, but also because firefighters had to tear down the ceiling and insulation to control the fire. Hattaway's apartment at 115 also received minor smoke damage.
For now, all of the residents displaced by the fire are staying with either family members or friends in Bonner Springs and surrounding cities. Stirling said she can't wait to get back to the home she lived in for nine years, even if it does look a little different.
"I'm hoping once it's rebuilt, I can get my old 119 back," Stirling said.
Moran said he had mixed emotions when he first learned of the fire.
"I hated it of course," Moran said. "But my thinking was everyone got out and nobody got hurt. I just wanted to make sure those kids were okay. It was a sad day, but it was a happy day too."