Basehor teen to perform in New York City
A Basehor-Linwood High School student will perform in a nationally-televised Thanksgiving Day parade.
Lara Kindle, a senior at BLHS, and the daughter of Forrest and Donna Kindle, Tonganoxie, will be a part of the Macy's Thanksgiving Day Parade, Nov. 23, in New York City.
Kindle will be one of a few hundred dancers performing with the Universal Dance Association group.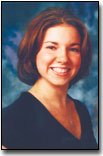 "It's very exciting. It's a very good opportunity for me to meet people from across the United States and to perform in the parade. Not everybody gets to do this," Kindle said.
Kindle, a co-captain on the BLHS dance squad, said she was invited to perform in the parade at the UDA summer camp in Lawrence earlier this year.
"You had to be a senior captain and show an interest in going," said Kindle.
"I'm excited that she has this opportunity," said Joyce McMillen, Basehor-Linwood dance squad sponsor. "She not only has a great ability in dancing, but she's going to be seen by millions of people in the United States. It's quite a good opportunity for the dancers."
Kindle, who will leave on Nov. 18, will spend nearly a week in New York, not only practicing for the parade, but also doing plenty of sightseeing.
Practices begin the day after she arrives in the Big Apple as parade directors, choreographers and television producers begin to coordinate plans for the big event.
Kindle said that while the UDA performers will have to learn the dance in a few days, it should pose no problem for her.
"At camp they expect us to learn a dance in about two hours, so I'm pretty sure I'll be all right to learn one in a few days," Kindle said.
Kindle said she is also looking forward to the sightseeing portion of the trip as the group will attend a Broadway show ("The Lion King"), visit the Empire State Building and the Statue of Liberty and go shopping on Fifth Avenue.
"Our hotel is across from where they do the 'Today' show," Kindle said. "Hopefully, if I get up in time, I'll go down there and watch."
Kindle said there wasn't any particular part of the trip that she is looking forward to the most.
"I think everything is exciting because I've never been to New York. But as far as the parade, I'm not going just to watch, I'm actually in it. That's exciting too."