Pant, Magaha honored for dedicated service
Officer Dwaine Pant of the Basehor Police Department and Chuck Magaha of the Fairmount Township Fire Department were honored last month as police officer and firefighter of the year by the Basehor PRIDE committee.
The two were presented plaques during an awards luncheon to honor law enforcement and firefighters in the city.
Pant was a police officer for the University of Kansas Medical Center for 11 years before deciding in 1993 to open his own business, Ark Cabinets, in Basehor. Shortly after that, he started as a volunteer with the Basehor Police Department and five years ago moved into a part-time role.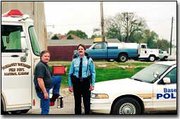 Pant said that as a part-time officer with the city, he is on 24-hour call to serve on an "as-needed" basis.
He said the honor was something he could share with his fellow officers."It's gratifying that people recognize the sacrifices that volunteers make to the community, to be able to respond whenever the chief needs us," he said.
Magaha has been a firefighter with the Fairmount department for 24 years. He serves as a volunteer firefighter as well as a medical first responder. He is also the Emergency Management Coordinator for Leavenworth County.
Magaha said he grew up around firemen, his father was one, and his son has joined the Fairmount department, becoming a third-generation firefighter.
"I was overwhelmed to know I was selected for this honor," Magaha said. "There are 30 other individuals who deserve this award and I don't know as I'd have voted for me. I am very grateful to have been recognized."
Magaha said he spoke for Pant, as well as members of both departments, in thanking the PRIDE group, comprised of the various civic groups in Basehor, for presenting the awards.
"This is something that recognizes not just us, but the departments. We are just people out there doing our jobs, but it is fantastic to be recognized," he said.