Daniels unseats Eldridge in Third District
A long election night resulted in at least one upset in Leavenworth County Tuesday.
Republican Joseph Daniels Jr. defeated Democratic incumbant Wayne Eldridge in the Third District Leavenworth County Commission race.
Daniels received 5,459 votes, or 55.76 percent while Eldridge received 4,315 votes, representing 44.08 percent.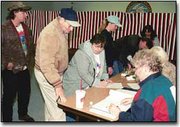 With the victory, Daniels will receive an annual salary of $37,876 per year and will help a three-member commission oversee a $33.6 million budget.
Daniels, 55, is a resident of Tonganoxie. He has worked in and out of county government for 25 years. He is currently a registered sanitarian at the county health department.
Eldridge, 62, lives in Basehor. He has servedon the Leavenworth County Commission for four years.
County election officials worked late into the night, recounting ballots that automated voting machines rejected.
In the presidential race, Leavenworth County residents chose Republican George Bush Jr. over Democrat Al Gore.
Bush recieved 12,378 votes or 54.13 percent while Gore recieved 9,514 votes or 41.61 percent.
Ralph Nader, an independent candidate, recieved 670 votes, or 2.93 percent.
Coming in a distant fourth was Reform Party candidate Pat Buchanan. He received 124 votes, representing less than one percent of the total votes.
County voters decided by a slim margin to do away with the current method of nonpartisan selection of district court judges in favor of election by voters.
The issue was settled by 1,059 votes with 11,620 voting in favor of election and 9,944 in favor of the former method.