High school students learn value of teaching
If youve been around Basehor-Linwood High School this semester and thought to yourself that some of the students seemed to be getting younger and smaller, you are correct.
For the past 12 years, BLHS has offered a class called Preschool Lab, where children between three years old and kindergarten age come to the school four days a week, two hours a day for instruction from high school students.
Its a second-level course, said class instructor Mary Myer. Students have to take child care, pass that class with a C grade or better, apply to be in the preschool class, then be selected.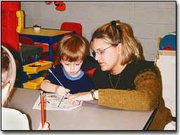 Its intent was not as a vocational course to be career-oriented, but more of allowing the students to be around preschoolers.
Do I think all of the kids will be child-care teachers? A lot would be really good at it, but it doesnt necessarily mean thats what its focus was. The sills they learn in here can be used in their own parenting. What are preschoolers like? What are good discipline techniques? Those kinds of things.
Myer said while she looks for students who are creative, its not a requirement to be in the class.
They just have to be willing to search out ideas. There are lots of ideas out there if they are willing to look for them.
She added the students need to be comfortable speaking in front of people.
Ive told the students, They are just preschoolers, they dont care. Its not like they are getting in front of a class of their peers, where they might act apprehensive. I say with the preschoolers its OK to act a little silly.
For parents who are worried that their child may not get a lot of individual attention in a day-care center, thats not the case with this class. There are 12 children attending this semester, with six high school students enrolled as teachers.
And both numbers are lower than normal. Myer said the class normally accepts up to 12 students and 16 children.
I think the ratio of high school teachers to children gives the kids a lot more individual attention, said parent Sara Bowers. It also gives the high school students a chance to learn about kids.
Myer said, I (ask) parents where else can they go and have that kind of pupil-teacher ratio.
And the price is right as well. Just $50 for the entire 12-week session.
You certainly arent getting a professional here, but for a person who stays at home and wants a little interaction for their kids, you cant beat it, said Myer. I think it serves a nice need for people in the community. Its a good program not only for my high school students but for those in the community as well.
The class goes through the paces as if its an actual pre-school center with each class session crammed full of activities.
The class begins with saying the Pledge of Allegiance, then goes into circle time, a sort of show-and-tell moment. There are also times for education, physical fitness and reading. The children also have chances to learn on computers and create art.
At the end of the semester, the class holds a graduation ceremony with caps and gowns.
We try to make it similar to the high school graduation. They look really cute, Myer said.
In all, its just like a normal pre-school but condensed into two hours.
We move fast, Myer said. But its good for the children because of their attention span.
For the high school students turned teachers, the class is difficult but entertaining.
Its not as easy as it looks, said senior Jeni Purtee. I thought it was going to be kind of easy, where Id just be able to play with the kids. But we have to have lesson plans done, which are due two weeks in advance, and think of things to talk to them about. Its hard work, but its fun.
I want to work with little kids later on in life and I thought this class would be a good experience to learn about the kids and activities to do with them. The kids have a lot of fun and we get to know what they are thinking about.
Junior Devon Hale added, I really enjoy it. Its a lot of work because you have to provide lessons every week with what you are going to do.
Im doing it because I want to be a teacher. But now Ive realized that maybe I dont want to start with the younger kids because you have to have a lot of patience. I have patience, but sometimes its not enough.
But I like little kids and I like to work with them. They can make you feel good. If you are having a bad day, they can cheer you up. A lot of them cant do everything that we think they are capable of doing. We help them and they really like that.
The high school students, not Myer, are the ones making all of the arrangements, decisions and plans for the class.
I try to say very little, Myer said. I interact with the preschoolers, but I try not to get involved, even though a student may be struggling. I try to keep my mouth shut because I dont want to be the person who comes in and rescues them. Their failures can be what help them learn.
On Mondays we dont have the preschoolers. Thats when we sit down and go over what kinds of problems were having and what we can do to improve.
One of the things the Family and Consumer Sciences (FACS) tries to focus on is student leadership, said Myer. Giving students responsibilities and letting them fulfill them. Thats one of the major things I see as the focus. I dont do all the work and make all the decisions. My students are the ones doing that.