Bobcat wrestlers primed for opener
After losing six seniors to graduation, including Andy Morgan and Buddy Bowen, two of the best wrestlers to ever don a singlet in school history, Basehor-Linwood High School head wrestling coach Scott Neil might have thought about going to the KSHSAA to get another year of eligibility for the graduates.
But despite losing a wealth of talent, Neil's squad last year had a lot of youth to it and will have a youthful look again this season.
"We're a pretty young team this year. We lost six seniors, but the flip side of that is we had a pretty good freshman class last year, so I'm expecting a lot out of them," Neil said.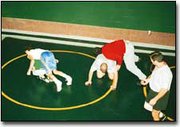 The Basehor-Linwood wrestlers are coming off a season that saw the Bobcats post an 11-1 dual record, including a second straight "unofficial" Kaw Valley League dual title, going 7-0 for the second consecutive season.
BLHS was also the team champion at the Tonganoxie tournament and placed second at the Holton Invitational and the KVL meet. Basehor-Linwood placed third at regionals and 16th at the 4A State tournament.
Despite the loss of six wrestlers to graduation, the Bobcats have four returning lettermen and another who gained a provisional letter for the 2000-01 season, including three 4A State qualifiers in sophomores Tim Morgan and Brandon Buck, and junior Matt Dukes.
Morgan, 18-6 at 112 pounds last year (20-6 overall) came within one step of placing at state last season. Buck had a 26-7 record, including an 18-4 mark at 152 pounds, while Dukes had a 16-3 record last year, with 15 of the wins at 145 pounds.
Buck and Dukes are slated to remain at 152 and 145, respectively, while Morgan will probably move up to 119 this season.
"Tim and Brandon did well as freshmen. I really expect a lot out of those two this year," said Neil, "and Matt is due to do something at the state tournament. I think we have a lot of youth, but I think we have a lot of talented youth."
Also lettering last season was junior Joe Johnson, who had a 14-20 record at 171 and 189 pounds. Senior Nick Plesa, who won the only two matches he wrestled last year at 119, received a provisional letter. Plesa missed most of the season after having surgery because of stomach problems. That after his sophomore season was shortened because of injuries sustained in a car accident.
Neil, in his fifth season as the Bobcats' head coach, is also expecting big things from a quartet of wrestlers. Junior Matt Gillett, a 275-pound transfer from Ozark, Mo., qualified for the Missouri 3A state meet last season. Freshman Cody Bell, expected to wrestle at 103 pounds, placed in the Kansas Kids' state meet last year. Sophomore Steve Porth was 3-8 on the BLHS varsity at 103 pounds as a freshman and sophomore Albert King, 5-5 last year, just missed qualifying for state at 160 pounds.
With that core group of nine grapplers, Neil thinks he squad could be as successful as last year.
"We're going to have to really work, but I don't think it's impossible. We need to have some guys step up and fill some spots, and if we can do that, I think we'll be OK."
It will again be a tough road for the Bobcats during the season. Besides the duals against league schools, Basehor-Linwood will compete in tournaments at Atchison County, Clay Center, Bonner Springs and Osawatomie, along with hosting its own two-day Bobcat Classic, Jan. 12-13.
Of the 20 teams at the Bobcat Classic, eight placed in the top-10 of their respective Kansas state tournaments, including Atchison County, the 3-2-1A champs. Other highly-ranked teams competing will be Eudora, Fort Scott, Garden City, Junction City, Paola, Shawnee Heights, Columbus and Glenwood, Iowa.
"I think that tournament will give us a good indication of how we'll do at state," Neil said. "This tournament will have just as tough competition as at the state tournament."
As for the season, Neil thinks his squad will be able to overcome its youth with hard work and aggressiveness.
"I hope we develop a little more aggressiveness out on the mat. We've been getting better about it every year, but we're still a little tentative in some areas. I would like to see us be more aggressive on our feet and get more into combative wrestling and hand fighting.
I think we'll have to really work on our conditioning because we're going to be behind some teams in the skill areas because of a lack of experience."
Basehor-Linwood opens the season on Wednesday, Nov. 22, hosting Bonner Springs and Louisburg in a double dual. The Bobcats begin the tournament portion of the schedule on Saturday, Dec. 2 at the Atchison County Invitational.