The Bonner Springs wrestling team will not have to wait long to see just how it shapes up.
The Braves open the season Wed., Nov. 29 at Basehor-Linwood with a double dual against the home Bobcats and Louisburg. Then, the following Saturday, it will be a full day of action at the Leavenworth tournament.
"Basehor-Linwood has a strong team returning so we may be counting on some kids that are basically unproven to step up quickly," Bonner Springs coach Randy Lowe said.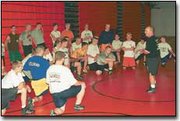 "The Leavenworth tournament is very tough. It is a round robin where everyone wrestles everyone else in their weight class and there are usually two or three state qualifiers in every class. You learn a lot about yourself very early on."
Disclaimers aside, Lowe has to like what he has this year.
"Last year we went into the season with a lot of questions, this year we are more confident," he said.
Lowe has what he said may be his "best team from top to bottom in his five years here" and it's the experience and talent that leads him to that observation.
The Braves are anchored by 12 wrestlers with varsity experience, including 10 letterwinners from last year and six state qualifiers. That, combined with promising newcomers feeding into the program, sets the stage for a strong year.
Topping the list of returners for the Braves is senior Scott Witzke, a senior who will likely compete at either the 119 or 125-pound class. Witzke was a regional champion and finished third in the state tournament last year.
Another regional champ returning is senior Jimmy Vogel, who finished fifth at state in the 125 class. He will likely return to that group or move up to 130 this season. The other state qualifiers back for the Braves are Donnie Shepherd, in the 130 or 135 class; Brock Peterson at 152; Spencer Buck at 112 and Nathan Parker, a former 160-pounder, likely to move to 171.
Chad Vandenberg was a likely state contender in the 103 class last year, but failed to make weight at the regional. Lowe expects him in the 119 class this season.
Adding to the mix for the Braves are two former grapplers returning this season.
Junior Josh Bosley competed as a sophomore, but opted for basketball last year. With an open spot available at the league tournament, Bosley returned and won five matches to win a league title and help carry the Braves to the championship.
Also back will be junior Mark Smith, 215, who was injured as a freshman and sat out last year.
The key loss from the Braves 1999-2000 team is Scott Polley, who finished second at the state tournament and is now wrestling at Stanford University.
With plenty of depth at many of the weights, Lowe said competition for varsity time will help improve the team and, like all coaches, he hopes his team stays healthy.
"We have to get everyone to the right weights. If we do, we have the talent and depth. The key will be getting all of our kids in the lineup at the same time," Lowe said.
"Obviously the concern always is staying healthy. If we can avoid injuries we should be pretty strong."