New coach, new start for Basehor-Linwood
After two straight losing seasons, the Basehor-Linwood High School boys' basketball team is hoping a new environment and new head coach will help turn things around.
Dan Miller, who for the past two seasons led the BLHS girls' squad, has moved on to become the head boys' coach, taking over the reins for Don Hills, the only head boys' basketball coach the school had ever known.
Miller, who was 15-27 in his two years with the Lady Bobcats, is no stranger to coaching boys, especially this year's senior class.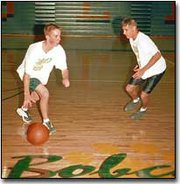 Prior to being named the girls' head coach, Miller was the boys' freshman coach for four years. His last season with the freshman, 1997-98, included the seniors on this year's squad.
Last year's team, which finished 6-15 overall and 4-10 in the Kaw Valley League, was the first Bobcat squad since the 1994-95 season that didn't advance to at least the sub-state championship game. But Miller hopes his five seniors will get the Bobcats back in the postseason race.
"It's going to take a lot of hard work. That's the only way I know how to improve things," said Miller. "It's going to take good attitudes from our seniors, both on and off the floor. We've got to be able to develop a little depth in order for us to get back into those situations. If things fall in line, the sky's the limit as long as people handle their responsibilities and perform."
Of the five seniors, 6-5 F Travis Fouts and 6-3 F Jackie Kimlin are returning starters.
Fouts led the team in scoring and rebounding last year, nearly averaging a double-double. He scored 13 points and grabbed 9.9 boards a game, while defensively, he averaged two steals and 3.5 blocks per game. Kimlin was the second on the squad with 10.1 points, 3.8 rebounds and 1.7 steals a game.
"Travis had a pretty solid season last year. We're looking for some big things out of Travis, as well as Jackie," Miller said. "Jackie has a natural knack to score points. He's an asset for us because of his ability to post up as well as taking opponents outside."
The three remaining seniors, 6-6 C Mike Horn, 6-1 G Brandon Fisher and 6-3 G-F Colby Kooser, will probably make up the rest of the starting lineup.
Horn was one of the top subs on last year's team, averaging just over three points and three rebounds. Fisher's playing time increased as the season wore on last year and averaged nearly three points a contest. Kooser saw limited action, playing in just five games.
Miller said of the trio, "I thought Mike came on late in the year and played pretty good basketball. I look at Brandon as being one of the surprises for teams in the Kaw Valley League and I look for Colby to kind of be our leader with the way he handles himself and the team."
Miller mentioned five other players who may get some varsity playing time, including 5-9 G Jake Hills, 6-4 F Eric Peeler, 6-4 F Ron Grey, juniors; and 6-1 G Brandon Dye and 5-10 G Brian Gripka, sophomores.
"I'm pretty excited to get the opportunity to work with these boys. We have some good size and are athletic. We should be able to get out and run the floor pretty well," Miller said.
"One of the concerns for us will be depth, especially in the frontcourt. We'll need some people to step up and provide some quality minutes in the event we get into foul trouble."
Miller and his squad are looking forward to playing in the new 2,500-seat gymnasium at BLHS, an upgrade from the small, 600-seat gym the Bobcats previously played in.
Not only will Basehor-Linwood host its own week-long tournament, the Bobcat Invitational in the middle of January, but BLHS received word last week it will host a 4A Sub-State tournament at the end of the season.
Miller anticipates the new facility will encourage local residents to watch the Bobcats.
"Our home court will only be as good as the fans in the stands. I don't care what kind of venue you play in, if you don't have people in the stands that are willing to come out and cheer and support you, your home court doesn't mean a whole lot.
Basehor-Linwood will open the 2000-01 season next Friday, Dec. 1, on the new home floor against Bonner Springs. Tip-off for the varsity boys' contest should be around 8:15 p.m.