Bobcats, Braves set for battle Friday
How's this for a season opener?
The Bonner Springs High School girls and boys basketball teams will take on the Basehor-Linwood squads Friday in the new 2,500-seat BLHS gymnasium. The four-game night begins at 4 p.m. with the girls' junior varsity contest.
It's a good thing the Basehor-Linwood School District built a new home for the Bobcat teams. No way would this match-up be able to be played in the old gym, which might have allowed for 600 persons. In fact, the new facility could be filled to the brim for these games, ones area residents, never mind the players and coaches, have been waiting to see for months.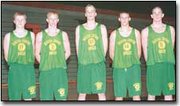 Bonner Springs and Basehor-Linwood will meet in regular-season play for the first time ever on Friday. However, they have had some key games in 4A Sub-State competition.
The Bobcat boys hold a 2-1 edge over the Braves and the Lady Bobcats have won the only game ever played between the two schools on the girls side.
In the last meeting between the boys' teams, Bonner Springs defeated Basehor-Linwood, 57-55, at Baldwin, to win a berth in the 4A State tournament in 1997.
The game featured a match-up between two of the area's top point guards in BLHS' Jamie Wittkop and Bonner's Corey Doss. Doss had 21 points in the game to pace BSHS while Jake Laffere scored 19 for the Bobcats.
The Braves led 56-55 with 1.5 seconds remaining before Bonner's Corwan Lane hit the front end of a one-and-one then grabbed the loose ball on the second try and held it until the buzzer sounded. While the game was closely contested, the sportsmanship on both sides drew praise from surrounding schools.
Basehor-Linwood won the first-ever game in 1995 enroute to the 4A State tournament. BLHS defeated Bonner Springs, 62-45, led by Chris Nichols' 16 points and Greg Laffere's 15 points. Doss had 15 points for the Braves.
Greg Laffere scored 32 points and Nolan Freeman added 22 as the Bobcats defeated Bonner Springs, 75-52, in 1996. Doss was again the leading scorer for the Braves with 13 points.
The only meeting between the girls' teams came in 1995 when Basehor-Linwood won, 46-44. The Lady Bobcats won the 4A Sub-State tournament and earned a trip to the state meet.
Noel Turner scored 18 points for BLHS while Kerri Golder had an outstanding game on defense. Angelique Suffren, who played her college basketball at Austin Peay, paced the Bravettes with 18 points.
Bonner Springs missed two shots in the final seconds that could have tied the game.
"It's a very natural rivalry, even though we don't play all the time," said B-L boys' head coach Dan Miller. "I know that Bonner is a very good basketball team from what I've heard. It will be a good test for us early in the season. It will be a very good measure of where we're at and what things we need to work on."
Jim Bonar, Braves head coach, said that practices have gone well. "I think fatigue set in about Thanksgiving. They were tired from the two-a-day practices and the long hours. They were ready for a rest." Practices since the holiday have been excellent, Bonar added.
The Bobcats are scheduled to start a group of five seniors against the Braves. They include Brandon Fisher, 6-1; Travis Fouts, 6-5; Mike Horn, 6-7; Jackie Kimlin, 6-3; and Colby Kooser, 6-1.
The Braves are set to counter with three seniors, Darryl Anderson, 6-4; Joe Botts, 6-3; and Alfonzo Cole, 6-3, to go along with a pair of juniors, Sean Birdsong, 6-3; and Chris Cobbins, 5-11.
Other members of the Basehor-Linwood varsity and junior varsity are: Juniors: Jake Hills, 5-10; Nick Verbenec, 6-0; Eric Peeler, 6-4; Ron Gray, 6-3; Sophomores: Eric Laffere, 5-9; Brian Gripka, 5-11; Charles Millison, 6-1; Brandon Dye, 6-0; John Grube, 5-9; Jake Brown, 5-11; Bronson Schaake, 5-11; and Ross McCoy, 6-1.
Other members of the Bonner Springs varsity and junior varsity are: Seniors: James Bass, 6-1; Gary Pinks, 6-2; Juniors: Romie Hall, 6-0; Greg Forshey, 5-11; Tom Gardner, 6-1; Louis Reyes, 6-2; Caleb Nay, 6-5; Sophomores: Aaron Weathers, 5-9; Chris Stakely, 5-10; Michael Cook, 5-10; Ryan Hall, 5-11; T.J. McGinnis, 5-10; Jeremy Krug, 5-10; Jared Gillespie, 6-1; Devin Pino, 5-11; Freshmen: Kenny Mack, 5-8; and Sidney Birdsong, 5-10.
The Lady Bobcats and Bravettes are also ready to tangle.
Basehor-Linwood girls' head coach Mardy Robinson said, "I think the girls are psyched up about playing Bonner. The girls want to go out there and make a statement.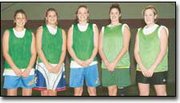 "I'm looking forward to our girls not having to play against each other and beat up on each other all the time. Hopefully, we're ready."
Robinson has also heard statements that the Bravettes will field some big players. "We're going to have to muscle up against them, but I think my girls are up to the challenge."
Garold Baker, Bonner Springs' head coach, said practices have been going well. "I would probably say that eight of the practices have been the best I've ever had in my 10 years of coaching. Honestly, except for physical shape, we were ready to play last week. The girls are very motivated and they've practiced hard."
Basehor-Linwood is scheduled to start a trio of seniors, Jackie Horn, 5-11; Jeni Purtee, 5-9; and Kelly Laffere, 5-7. A pair of juniors, Courtney Reed, 5-11, and Kara Lackner, 5-6, will complement the starting lineup.
Baker listed his tentative starters, which will include four sophomores, Morgan McConico, 5-8; Amanda Berry, 5-11; Andrea Dill, 6-0; and Lindsey Stanbrough, 5-10. Holly Thompson, 5-4 senior, is the lone upperclassman.
Other members of the Basehor-Linwood varsity and junior varsity are: Juniors: Emily Hoffman, 5-8; Lesley Hancock 5-7; Jamie McDonald, 5-5; Tara Lucas, 5-10; Ryan Wohletz, 5-9; Sophomores: Aubrey Bittel, 5-10; Sara Chrisman, 5-11; Cristin Burnett, 5-8; Tiffany Bates, 6-0; Sara Hashman, 5-5; Heather Peeler, 5-7; Lindsay Cunningham, 5-8; Kindle Rose, 5-6; Freshman: Alex Jeannin, 5-7.
Other members of the Bonner Springs varsity and junior varsity are: Seniors: Alicia Forshey, 5-4; Melissa Wiseman, 5-11; Katie Szewc, 5-8; Junior: Amittia Davis, 5-6; Sophomores: Holly Miller, 5-3; Jill Gardner, 5-6; Bethany Gallagher, 5-3; Ashley Bush, 5-5; Morgan Tuttle, 5-10; LaPourchea McConico, 5-6; Freshman: Shayla Davis 5-4.
The BLHS and BSHS freshmen girls' squads will open their respective seasons against each other on Monday, Dec. 4, in the first round of the Lady Tiger Invitational Tournament at Fort Leavenworth-Patton. Tip-off is set for 5 p.m. The tournament continues with action on Dec. 6 and 7.
Basehor-Linwood freshman girls roster: Blaine Buck, Katie Burchfield, Chelsea Flowers, Nicole Kirk, Lindsey Miller, Maggie Morris, Terra Nichols, Ashley Odle, Kelly Schaffer, Ashley Taylor.
Bonner Springs freshman girls roster: Dori Dragush, Vicky Reynolds, Alexis Kimbrough, Ashley McConico, Liz Brown, Katie Marks, Samantha Bond, Stephanie Dorthy.
The Bobcat freshman boys' squad will get its season started on Tuesday, Dec. 5, when they travel to Santa Fe Trail with the varsity and JV squads.
Members of the Basehor-Linwood freshman boys team are: Joey Brown, Brett Dowdall, Cameron Freeman, Garyn Gorup, Billy Hashman, Cody Herbster, Josh Kimlin, Robby Paterson, John Shumaker, Adam Smith, Tim Ward.
The Braves' freshman boys' team will open on Wednesday, Dec. 6 at Maur Hill Prep.
Members of the Bonner Springs freshman boys team are: Kevin Dame, Don Kirby, Vincent Lockett, Todd Vanderpool, Drew Hess, Brett Shelton, Chris Johnson, Travis Shockey, Lance Barber.