High-tech charter school adds to district numbers
Enrollment numbers are up this year for the Basehor-Linwood School District, thanks to a high-tech way of thinking by school administrators.
The district's Virtual Charter School enrollment has grown to include 368 students, up from 302 students last year and 63 students during its opening year, two years ago.
The Virtual Charter School provides a curriculum, lessons and assessment for home-based students across the state. The school is the only one of its type in Kansas and one of only a few nationwide.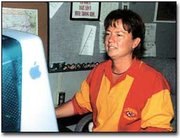 Students enrolled in the school access class material through the Internet. Teachers post lessons on the Web site, along with tests and support material.
The school district receives state funding for each student enrolled in the virtual school, which translates to a larger operating budget.
Calvin Cormack, Basehor-Linwood's acting superintendent, and Brenda DeGroot, the school's director, are quick to point out, however, that money was not the motivating factor behind the computer-based school.
"We don't look at it as a revenue-generating endeavor," Cormack said. "Yes, we've been able to provide a good program with the money the state gives us, but there's a trade-off. You're not paying for bricks, mortar or classroom space, but your paying for computers, servers and items such as that."
The district provides a computer and textbooks for each student enrolled in the school. When you add to that the cost of staffing the school, there is not much cost difference between a virtual student and a classroom student, Cormack said.
The obvious benefit of the virtual school is that it has kept enrollment numbers from stagnating during a time of little growth throughout the district, Cormack said. What is less obvious, but more important, he added, is that students in the classrooms share technological advancements financed by the virtual school.
"We've been able to offer things to our local students that we could never have offered without the virtual school," Cormack said. "They have access to the same on-line lessons as the virtual students."
DeGroot has been the virtual school's director since it started. She agrees the advantage of the virtual school lies more with academics than dollars.
"I remember when (Superintendent) David Pendleton first approached me with the idea," she said. "He told me then if we could get six students, he would let us do it. So, it was definitely not done for the money."
Another misconception about the school is that it will lead to more students staying home to learn.
"People always ask me if this is the wave of the future, and I tell them, 'absolutely not,'" she said. "As a matter of fact, a lot of the kids enrolled in the (virtual) school tell us they miss the interaction with other students."
The school is designed for specific students, DeGroot said. A number of students enrolled in the virtual school have been suspended or expelled from their traditional schools, she explained.
"The original idea behind the school was to provide an alternative for those students, the ones who had no other options," she said. "We were surprised there was so much interest from home-school students."
Home-school students who are enrolled in the school don't have it as easy as many people think, DeGroot said.
"I've had kids say they want to enroll so they can take it easy and sleep in late, but it doesn't work that way. They have to be a lot more motivated than students who go to school every day," she said.