Beal takes pride in her community
Jamie Beal is proud of her community and last month, her fellow community members showed her how proud they were of her.
The 16-year-old Basehor girl was named an Outstanding Youth Leader at the Kansas Pride Conference Sept. 23 in Salina.
Kansas Pride is a statewide, community-improvement program. Basehor has three organizations affiliated with the volunteer program, Basehor Pride, Gold Pride and Youth Pride.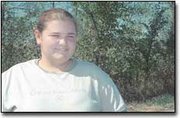 The civic groups work together to organize projects such as citywide cleanups and recycling programs throughout the community. Gold Pride is made up of senior citizens in the area and Youth Pride is for residents 17 years old and younger.
As president of Youth Pride, Beal works closely with Basehor Pride members and organizes activities for the youth group. She's been a member of Basehor Youth Pride since its inception, three years ago.
Nominated by her fellow Pride members, Beal was recognized as one of the state's outstanding young people at the conference. The award came as a surprise to Beal who thought she was going only to support the Basehor Pride group, which was given the Community of Excellence Award at the conference.
"I got there and I saw all of my family members," she said. "I asked them what they were doing there and they said they just came down to make sure I made it there safely."
Beal was suspicious, but still had no idea what was in store for her.
"One of the members of Basehor Pride called me earlier and asked for details about me. She said they just needed it for themselves," Beal said. "Then, while I was sitting at the conference, I heard them saying all the things I had told her and I started to wonder."
Beal was called forward and given a plaque, naming her as an Outstanding Youth Leader for the Kansas Pride organization.
According to her fellow Basehor Pride members, the award was well deserved.
"I don't think I can say enough good things about Jamie. She's quite a young lady," Youth Pride Sponsor Peggy Lowman said. "She's came in the first year as vice-president and since then, she's been the president."
Lowman helped get the Youth Pride group started and Beal was one of the first people she called upon to join. As a Beal's neighbor, Lowman said she knew the youngster had a good heart and a volunteer spirit.
"Her mother has multiple sclerosis and she always did such a good job helping her," she said. "I knew she was a very giving person and we were looking for people who were community minded."
The Lowmans only had to ask Beal to join once.
"They asked if I would join and I said, 'sure,'" she said. "I thought it sounded like a fun thing to do and I think it's good to get involved with your community."
What started as a "fun" project has all but taken over Beal's life.
"I devote as much time as possible to it," she said. "It's totally shaped my life. I don't know where I'd be without it."
Lowman also has a hard time imagining where the group would be without Beal.
"As the kids get older and get into high school, they get so busy that sometimes they lose interest," she said. "I really hope we don't lose here now that she's getting older."
Beal said that wouldn't happen.
"I plan to go straight into Basehor Pride from here and then into Gold Pride after that," she said.