Basehor student honors former teacher
When Lisa Hallier moved to Basehor as a fifth grader, one teacher made her feel special. Seven years later, Hallier returned the favor.
The Basehor-Linwood High School senior successfully nominated Basehor Elementary teacher Victoria Davids to be included in the 2000 edition of "Who's Who Among Teachers."
Hallier nominated her favorite teacher as she was applying to be included in the upcoming "Who's Who Among High School Students." Hallier was also accepted to the publication.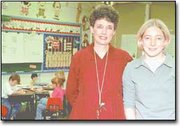 "When I was applying to be in the book for high school students, the application asked for my favorite teacher," she said. "So I thought about Ms. Davids."
Davids was Hallier's history teacher and she brought a new perspective to a subject Hallier had not previously enjoyed.
"I just remember that she always made it fun," Hallier said. "It was my first year in Basehor and I had never really liked history before. I liked her class though, because she did so many things to make it interesting."
Davids was not surprised that she had made such an impact on Hallier, but she was surprised to hear what she had done.
"I have students tell me all the time that they remember all the things we did in class, but I've never made it into a book before," she said.
After seven years, Davids also has fond memories of Hallier.
"Of course I remember her," she said. "She was always very quiet and always wanted to do well. She was a great student."
Davids is now teaching first grade, but remembers well the techniques she used to get her students interested in history.
"I used to stand up on top of the desk when we studied the slave auctions, to show them how it was done," she said, "And I was well known for my Indian War woops."
The age of her students may have changed over the years, but her teaching techniques have not, she said.
"I still do things to try and get the kids excited," she said. "I feel like, if I'm excited about teaching, then they'll be excited about learning."
Hallier said she's living proof of David's theory.
"She always made me want to learn more," she said.