Candidates face off in local forum
In the Third District Leavenworth County Commission race, Democratic incumbent Wayne Eldridge will try to fend off Republican Joseph Daniels Jr.
The winner of the Nov. 7 general election will capture a position paying $37,876 a year and will help a three-member commission oversee a $33.6 million budget.
Basically, Im not satisfied with the status quo, Daniels said at forum Tuesday in Basehor. We need some representation, someone who is accessible and able to comment and be there when a constituent calls.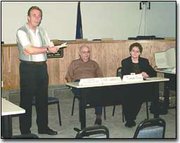 Daniels, 55, a Tonganoxie Republican, has worked in and out of county government for 25 years. He currently is a registered sanitarian, who works for the county health department.
Eldridge, 62, a Basehor Democrat, is a local businessman, who in has served as a county commissioner for four years.
Eldridge said his best accomplishments as a commissioner was bringing the new Leavenworth County Justice Center in on time and within budget. He also pointed to the many road improvements he was able to implement while in office.
Road improvements in the southern portion of the county seemed to be the main issue among the candidates.
Both candidates agreed roads need improvement and there should be long-term planning to make those improvements. However, Daniels did not specify an exact way to pay for the road improvements although he said he would look for federal funding.
Eldridge did not specifically say what measures to use to finance road improvements, although he has said before the county ought to renew an existing one-cent sales tax, set to expire in 2006.
The candidates also support hiring a county administrator to oversee daily county operations.
Ray Cox, R-Bonner Springs, the incumbent in the 39th District House of Representatives race was once again speaking without an opponent. Linda Schuttler, D-Olathe, for the fourth time hasnt appeared at a scheduled forum. Schuttler has said she only put her name on the ballot to represent the other party, giving voters an alternative.
Those in attendance also heard from County Attorney John Kohl, who is in favor of holding political elections for judges. Attorney John Tillotson gave the opposing view, saying that the present non-partisan election of judges should stay intact.
Mark Gilstrap, D- Kansas City, Kan., the incumbent in the State Senate Fifth District race, was not in attendance, but did send in answers to moderator Susan Guy, who read them to the audience. Challenger, Chester Richards, a Republican living in Wyandotte County and Gilstrap vary widely in political views. Richards believes in incorporating a school voucher system, allowing students to choose what school they want to attend.
Gilstrap supports renewing the state lottery, where Richards is opposed to state sanctioned gambling.
Candidates Kenny Wilk and Jim Pittman, running for the 42nd District House of Representatives seat were also in attendance, because the district represents a portion of rural Basehor.