Reliving the Wild, Wild West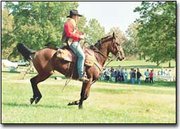 Area residents last weekend got a glimpse of pioneer life in the 1800s at the 6th Annual Wyandott Days.
The three-day event at Wyandotte County Park had professional storytellers spinning tales of the Old West, a covered wagon train, civil war demonstrations and a re-enactment of the Pony Express.
Those in attendance also were treated to presentations on lifestyles of the pioneers. Children participated in an old west obstacle course that included a sack race, roping a wooden steer, eating pretzels off a string and tossing a ball of yarn through a hole in a board. Several in attendance tried their skill at throwing cow chips.
A wagon train with actors dressed in period clothing from the 1800s began the event Friday with a four-mile trek through the park and adjacent property near 126th Street and State Avenue.
We just got done having our old west celebration and brought our wagons to participate in this one, said Dave Harwood, director of livestock at Mahaffie Stagecoach Stop and Historical Site in Olathe.
Students from the Bonner Springs-Edwardsville School District participated in the short trip and then spent time going to the different demonstrations and events.
The celebration is sponsored by the Wyandotte County Historical Society to give area residents a glimpse of early life on the Kansas prairie, said Carolyn Walden, first vice president of the historical society.
A highlight of the weekend came when members of the Pony Express Re-enactors Association performed the exchange of the mochila V mail pouch V the remount and continued journey of a Pony Express rider.
Members usually make the annual journey from St. Joseph, Mo., to Sacramento, Calif., re-enacting the Pony Express operation of 1860-1861, said Allen Prell, whose family participates in several re-enactments each year.
They only lost one rider and one mail bag during the entire operation, Prell said of the original Pony Express.
Pony Express riders were mostly 14-year-old male orphans who risked death daily to deliver documents across the western United States. A rider and saddle could only weigh a combined 160 pounds and they were paid about $25 a week, Prell said.
A former Wyandotte County couple, who participated in the event, renewed their wedding vows at an old-time wedding ceremony and celebration at the Wyandotte County Museums Heirloom.
Donald John Werner Sr. and Constance Louise Werner were married Oct. 16, 1965. The couple, who has participated in Wyandott Days for four years, celebrated their anniversary by renewing their vows.
The ceremony was followed with a large country-style dinner and a barn dance that featured callers yelling out changes during traditional western dances.
Historians at the campsite gave demonstrations on forgotten skills of the 1800s, such as soap making, corn shelling, spinning, weaving, open fire cooking, blacksmithing, wheelwrighting, sheep shearing and quilting.
And no Old West celebration would be complete without the traveling saloon.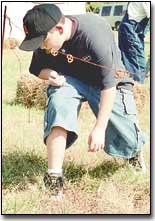 Little Johns, a traveling concession that sells root beer, lemonade and a combination of cherry cola with lemon, was founded by Patty Mertz of Kansas City, Kan.
Mertz started several years ago selling homemade root beer at Boy Scout functions. Now, the business travels to similar Old West events each year, said Jim Fuzzy Brooks.
Little Johns operates out of a large canvass tent with a bar lined with old whiskey barrels and labeled bottles resembling those used during the Old West.
(Mertz) found pictures of labels and bottles from back then and had a designer make some for her, Brooks said.
Customers can choose from a variety of sizes, colors and designs of bottles, including a lock-down corked top or the original corked top that someone could loosen a tooth pulling out.
Those working at Little Johns are dressed in period costumes, including aprons. Fuzzy likes to add a Lincoln-style top hat.
We go to several gatherings like this starting in the summer and usually close down about this time each year, said Mel Theisen, while filling a bottle with ice-cold root beer.