Basehor begins a new era
Council approves agreement
The Basehor City Council approved last Wednesday an interlocal agreement between the city of Basehor and the Leavenworth County Commissioners regarding the annexation of the Falcon Lakes subdivision.
Basehor City Attorney John Thompson told the council that the county commissioners had revised the agreement to include several more provisions than the original agreement.
The revised agreement included that the city of Basehor would annex the road right-of-ways for all the perimeter roads, including access to Kansas Highway 7.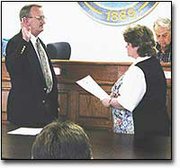 In addition, the county would maintain the perimeter roads until they are improved by the city and, at that time, the city would assume responsibility for the maintenance of the roads. The county would also provide snow removal for the next five years.
Thompson said there were a number of items in the revised agreement that required the attention of the council. In the revised agreement, the legal and financial improvements of the three perimeter roads surrounding the development, Hollingsworth Road, Donohoo Road and 147th Street, as well as the access to K-7 falls onto the city.
In the agreement, a timeline is not set for those improvements and there is no standard to determine what events must occur before the city is required to make those improvements, Thompson said.
"If there were a disagreement between the city and the county as to the timing of the improvements, it would probably require a court to determine the intent of the agreement," Thompson said. "The discussion that occurred at the hearing with the county commissioners was that the city of Basehor would not have the funds necessary to make improvements or maintain the road unless the subdivision is fully completed."
The vote to approve the interlocal agreement was passed 3-1 in favor of the agreement. Council member Joe Odle was the lone voter against the arrangement with the county. Odle expressed displeasure with the council's decision to pass the agreement.
"I tell you right now, we are going to be under obligation to pay for those roads around there," Odle said. "I am telling you now that the people of this community are going to end up paying for those perimeter roads or a big part of it."
City Codes Administrator Mike Hooper said the intent of the agreement with is not to have Basehor pay for the perimeter roads and that the timeline for improving the roads would depend on developing the other side of K-7.
"I don't know of any legal basis that they can force us to pay for those roads," Hooper said. "I am not saying that there may not be a small portion that comes from some taxpayers. What we are hoping is that there will be some development occur on the other side where we will collect some more funds."