Community library seeks new facility
To ensure the Basehor Community Library provides the best possible service to the community, steps are being taken to build a new facility to handle the growing number of library patrons, Basehor Community Library Director Carla Kaiser said.
According to library records, the library had a circulation of approximately 6,500 when it opened in 1986. Today that number is more than 34,000.
In 1986, the library offered 7,460 books as opposed to the 15,000 offered today, not counting the numerous videos, audio books, magazines, newspapers and computer software that are now available.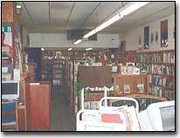 Kaiser said the library has outgrown the existing building because it doesn't have enough space to host all of the library programs and to shelve its materials. Library officials are looking at several different sites in hopes of finding one with a more central location and one with additional space.
"The sites we're looking at are located towards Kansas Highway 24/40," Kaiser said. "What we are trying to do is get more centrally located. Whether you live north or south of the highway, we want to be located closer to that so when people are out and about, they can stop in instead of having to go to downtown Basehor."
In November of 1998, library officials sent out a questionnaire to library district residents asking if they would support a new building. Of the 2,400 households that were surveyed, 601, or 25 percent were returned. Of that number, 89.8% said a new library was needed. When asked how they would support funding for the new building, a majority responded they would be in favor of a bond issue, according to the library's strategic plan.
The current mill levy for the library is three mills. Any bond issue in favor of raising the mill levy to fund a new building would increase that number. Kaiser said that since the library is only in the preliminary stages of finding a new building, an amount of the mill levy increase could not yet be determined.
Still, there are several other areas in which the library needs improvement.
Kaiser said in addition to the lack of space, the library doesn't have enough parking for visitors and the front sidewalk is not handicap accessible.
"Not only are we short on space and seating, but we also fall short on Kansas Public Library standards," Kaiser said. "Those standards say that if you serve so many people you should have this many books, and this many parking spaces, and in a lot of those things we fall short."
Kaiser said that remodeling has been done in previous years to take advantage of any available space, but it just isn't enough to keep up with the growing circulation of the library.
"We have quadrupled are space tremendously in the past several years," Kaiser said. "There have been walls knocked down, there has been use of space that wasn't occupied and then we took over what used to be the flower shop, but we're still cramped."
Kaiser said that one of the concerns she has heard about moving to a new building is that it might not have the same small-town feel as the original building. Kaiser said that regaining that feel would be the least of her concerns.
"We would definitely try to re-create that same kind of environment and with the kind of good people we have on staff as well as volunteers, it wouldn't be hard," Kaiser said.
Library officials still have a long way to go before any plans for a new facility become final. They still have to find a permanent site for the new building, determine it's size and configure the arrangement of materials as well as seating arrangements. Although there is still much to do, it is fairly safe to say that within a year those final plans will have been developed, Kaiser said.
"I am kind of an internal optimist, but I think a year is a safe bet but I wouldn't count out within the next six months either," Kaiser said.