Council members take oath
Hooker sworn in as mayor
It was out with the old, in with the new at the Basehor City Council meeting Monday night as new elected officials were sworn into office.
City Clerk Mary Mogle administered the oath of office to Mayor Bill Hooker and City Council member Joseph Scherer in front of a packed house at Basehor City Hall.
Following his first official meeting as mayor, Hooker said he was a little nervous, but overall he thought the meeting went extremely well and was glad to get the first one behind him.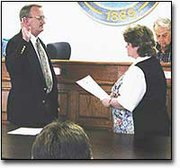 Hooker addressed his supporters during the meeting, thanking all those who helped him in the election. He also said he looks forward to serving the city of Basehor for the next four years.
It didn't take long for Scherer to make an impact on the council. After being sworn in, Scherer was voted in as City Council president, replacing former council president Chris Garcia.
"For everyone who voted for me, I say thanks, and for everyone who didn't, hopefully I can do a good enough job for you while I'm on the City Council," Scherer said addressing the audience.
Garcia and council member Burl Gratny were both nominated as City Council president, but neither of them wanted the position. Both said that they did not have enough time to adequately fill the position. After both councilmen declined the nomination, Scherer was unanimously voted in.
Also sworn in was incumbent council member Julian Espinoza. Espinoza was the appointed replacement of former city council president Robert Vervaecke, when Vervaecke resigned last November.
Espinoza received the second highest vote total in the general election and will be serving his first full term on the City Council.
After the installation of the new officers, the City Council heard from City Codes Administrator Mike Hooper on a proposal to increase the planning application fees for proposed developments in the area.
"The engineering charges greatly exceed the revenue paid by developers for reviewing plans, plats and rezoning," Hooper said. "A survey was recently performed from five area municipalities that will show the city of Basehor is justified in increasing the fees."
The City Council passed the motion, 4-1, with council member Scherer casting the opposing vote.
In other action, the City Council:
approved contractor payments for the wastewater treatment facility by a 5-0 vote
approved the scheduling of a public hearing for sewer and solid wastewater delinquent accounts by a 5-0 vote.
tabled an interlocal agreement with Fairmount Township for improvements to the Basehor City Hall parking lot until next month's meeting.