Lady Bobcats claw back for split
In picking up her first hit of the season, Megan Laffoon picked the right time to come through Monday.
The Lady Bobcat junior looped a bases-loaded triple against host Mill Valley to give Basehor-Linwood a split with the Jaguars.
The win moved the Lady Bobcats to an 8-2 record overall and kept BLHS atop the Kaw Valley League standings with Piper.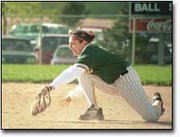 Basehor-Linwood ended this week with a 3-1 record, registering a pair of wins against Perry-Lecompton, 11-1, 8-0, last Thursday. Mill Valley won a 2-0 opener against BLHS, but the Bobcats roared back from a four-run deficit to win the nightcap, 5-4.
Monday's recap
Game 1 Mill Valley 2, Basehor-Linwood 0
The Lady Bobcats had a frustrating time putting a bat on the ball against Mill Valley senior pitcher Ashley Perkins.
Perkins, who has not allowed an earned run this season, tossed a three-hit shutout while striking out ten batters.
"You've got to give her all the credit in the world," Basehor-Linwood head coach Susan Mayberry said of Perkins. "She mixed pitches well. She mixed speeds well. She had total command of the game."
Basehor-Linwood attempted a two-out rally in the seventh when senior Courtney Reed walked on four straight pitches. Stephanie Larson then hit a single to left field to put Reed in scoring position, but a groundout on the next batter ended the game.
"Our bats came out flat," said Mayberry. "I don't think we were very aggressive or had good pitch selection at the plate.
Mill Valley scored its two runs in the third inning off Reed, who struck out eight batters and allowed only five hits.
"We allowed them to get their hits and they got their confidence going," Mayberry said. "It seemed like we shut down offensively."
Game 2 Basehor-Linwood 5, Mill Valley 4
The Lady Bobcats came back from a 4-0 deficit to win the nightcap. BLHS provided the offense with a five-run fifth inning, then held off a late charge by the Jaguars.
Struggling to rattle the bats throughout the night, Basehor-Linwood managed to piece together three hits in the fifth the only inning in Monday's doubleheader that the Bobcats would have more than one hit.
Kelly Laffere opened the frame with a walk, then Lesley Hancock hit a single to left. Three batters later, Kara Lackner worked to a full count and received a free pass to first, loading the bases.
With two outs, junior Megan Laffoon lofted a 0-1 pitch to left field for a triple, clearing the bases and pulling the Bobcats within one run.
"Anytime someone can get the big hit like that, it has a tendency to loosen people up,' Mayberry said. "Hitting is contagious, so it put them back on their heels."
"We seemed to struggle at the plate, but this time, we had the big inning with Megan's triple."
Bobcat senior Jackie Horn then tied the game with an RBI single. Horn stole second to move into scoring position and scored on an error.
In the seventh inning with two outs, the Jaguars began their late push with two runners reaching base by error and a walk. Junior pitcher Courtney Reed ended the Mill Valley rally by getting a groundout to end the game.
Afterwards, Mayberry was pleased with her team to step up in the nightcap.
"It shows our team that we can, that we are capable of coming back. It would have been easy just to pack it up and write the game off, but we had a timely hit at a time we needed it."
Laffoon said that after the game, the team has the confidence to muscle with Mill Valley.
"We showed them that we could get back up and that they weren't going to beat us everytime," she said. "We've got it, the whole team's got it, to beat them."
Thursday's recap, Game 1 Basehor-Linwood 11, Perry-Lecompton 1
The visiting Bobcats opened early on Perry, scoring nine runs in the first four innings of play.
Basehor-Linwood batted around the order for a five-run third inning to take a 7-0 lead.
Jackie Horn led the attack with a three-run home run, then Kelleigh Gorup and Christina McCarty added RBI sacrifce flys.
Bashehor-Linwood relied on its 3-4-5 hitters (Horn, Courtney Reed and Stephanie Larson) to provide the punch. The trio combined for a 6-for-10 performance at the plate, along with five RBI
Reed and Larson had RBI's in the fourth inning, while Horn and Reed hit back-to-back RBI singlesin the sixth to end the game on a run-rule.
Reed tossed a complete game four-hitter, while fanning 13 batters and walking none.
Game 2 Basehor-Linwood 8, Perry-Lecompton 0
The offense continued in the nightcap as the Bobcats struck quickly for six runs in the second inning.
Courtney Reed did damage on the mound and the plate versus the Kaws, all while nearly earning a no-hiiter.
The junior went 3-for-3 with a pair of runs and two RBI, as well as hurling a complete game one-hit shutout. Reed walked only one batter and struck out nine in the win.
Reed retired 22 of the first 23 batters (one walk), before allowing the first hit of the game.
Basehor-Linwood opened the second with a pair of walks, then Cristin Burnett drove Kelly Laffere home on a fielder's choice.
Kara Lackner then hit a two-run double to left-center, scoring Kelleigh Gorup and Burnett. Jackie Horn followed with an RBI double, then Reed and Stephanie Larson hit back-to-back RBI singles.
Reed helped out for the first and last run of the game. A double to right-center scored Megan Laffoon in the first inning, giving BLHS a 1-0 edge.
In the fifth inning, Reed opened with a double to right. The junior would later come hom on a fielder's choice.