Price 'fired up' to coach Braves basketball
Defense, discipline and teamwork will be the main emphasis of Andy Price, new Bonner Springs High School basketball coach.
Price, a math and computer instructor at BSHS, was promoted to the head coaching position by the school board last week. Price has served as JV and freshman coach at Bonner Springs High School and brings years of experience as a player and as an assistant coach.
"I'm fired up," he said about his new challenges.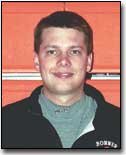 Price is a graduate of Salina South High School, where he was a starter as a guard. Price, 6-feet-2, said he played on a team that didn't have much height or athleticism, but they were overachievers and qualified for the state tournament. In fact, Price was one of the taller players and was the "jumper" at the start of many games. The South team started a new era of winning basketball.
He was coached by Phil Anderson, now head coach at Hutchinson High School, as a junior and by Dennis Wahlgren who remains the head coach at South and has built a successful program.
He continued his playing career at Highland Community College and was a starter as a sophomore and averaged 12 points per game. He followed coach Neal Elliott to the University of Nebraska-Omaha, where he played two years. While at UNO, he set a school record with 101 three-point field goals and came within one of the single season record his junior year when he drained 66.
"I think that the record has been broken by players who were there four years," he said. "I think I still have part of the single game record. I hit seven two times."
Price said he became disenchanted with Omaha after completion of his basketball eligibility. "I wasn't happy with Omaha and I wanted to do some coaching," he said.
He transferred to Fort Hays State University where was a student assistant basketball coach for one year in 1996-97 under Gary Garner who has since moved to South Dakota State. Fort Hays was 29-2 during the season.
The following year, Price was a student teacher and was a Rule 10 coach of an eighth grade boys JV team at Hays Middle School. After completing his degree at FHSU, he accepted a teaching position at Great Bend and was varsity assistant coach and sophomore boys coach.
He came to Bonner Springs in 1999 as a math teacher. "My fiance took a teaching job in Blue Valley and I happened to call the day there was a math vacancy," he said. "There were no coaching openings which was disappointing. Then in the summer Mike Maher (freshman coach) left and things kind of fell in place."
His wife, Aimee, teaches at Overland Trail Middle School in the Blue Valley district.
His freshman team had an 11-7 record in his first year at BSHS and last year he moved up as JV coach where they were 9-10.
Price said he plans to use a controlled fast-break style of play and "look for the easy opportunities."
"We will have a set offense, but I want to teach them to read and know what the defense is doing and to react."
"We've got to get much better on defense," he continued.
The Braves will primarily utilize a man-to-man defense but will be changing to zone. "I like to change defense coming out of a time-out," he said. "Primarily we'll use the man, but we will show some zone." In particular he plans to use a 2-3 match up zone.
"I want it (Bonner Springs basketball) to be fun to watch," he continued, "playing hard and diving on the floor for loose balls."
He said that defense, discipline and teamwork will be emphasized. "I think that the players know me and they know they are going to have to earn their (playing) time," he said. "We'll emphasize playing as a team."
Bonner Springs has five lettermen from this year's squad, in addition to others who logged some varsity playing time.
"I'm nervous and excited," he said about his head coaching assignment and added that he wanted to thank his freshman and JV players. "I don't think I would have gotten this opportunity without the freshmen and JV players," he said. "They really worked hard for me and they made me look good.:"
"I want to also thank Garold (Baker, athletic director) and Jerry (Abbott, principal). I appreciate them giving me the opportunity."
Price is already busy planning for next season and said he wants to be more active in the community.
His first project will be a summer basketball camp for youth from the fourth grade through high school. Camp will be held from June 25 through June 29 and additional details will be announced in the coming week.
Price said the cost will be $40 including a t-shirt and a website will be established to allow registration.
He plans to use BSHS players to assist with the camp.
Price said that he will be working hard to prepare for the season. "I'll be working a lot of overtime," he said.