School district examines all-day kindergarten
The Basehor-Linwood School Board announced at its last meeting that the district would explore the possibility of having an all-day kindergarten program for the next school year.
However, funding for the program would have to come from within the district because the state of Kansas currently doesn't recognize all-day kindergarten. If the school district does go forward with the program, the district would have to come up with the funds to provide an additional teacher, Acting Superintendent Cal Cormack said.
The district is looking at adding the full-day program at Basehor and Linwood Elementary schools, but not Glenwood Ridge Elementary. According to Glenwood Ridge Principal Tom Saack, the school does not have the facilities to support an all-day program and his feeling is that parents in that area don't want an extended-day kindergarten.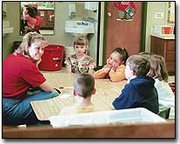 "Last year, we did a survey of the parents from this area and, if I remember right, around 80 percent said they didn't want a full-day kindergarten," Saack said. "We didn't survey this year because I didn't think it would be an option."
Saack said the district is trying to pilot the program to see if their is an interest. This also gives the district an opportunity to research the long-range benefits of kids attending the program.
Saack would be in favor of having the all-day program and said there would be many benefits to children who were in the program.
"You're going to have kids that just flourish in that setting," Saack said. "I think we will find the biggest advantage with the at-risk students who are developmentally behind a little bit. I think it would benefit them a great deal."
Basehor Elementary School Principal Teddi Stern said she hopes to see the full-day program become a reality for the next school year. After the planning and implementation of the program, the board's next step would be to hire an additional kindergarten teacher. Between Basehor and Linwood elementaries there would have to be one additional teacher added for the all-day program, Stern said.
"Funding for that would come from district funds or federal grants," Stern said.
Stern said during Kindergarten Round-up she polled the parents and approximately half said they would be in favor of extending the kindergarten program.
"What will actually end up happening is once we get all-day kindergarten, probably not every parent that wants it will be able to utilize it because we will have to balance out the classes," Stern said. "We had 45 parents attend Kindergarten Round-up and 20 said they wanted their child in all-day kindergarten."
Stern said once the district knows the program is approved, the district will have to figure out its criteria for what students are allowed into the program.
Tiffany Johnson, a kindergarten teacher at Basehor Elementary, said she is also in favor of the program, but wants her class sizes to stay small. Currently, Johnson has morning and afternoon classes that have less than 20 students. Kindergarten classes over 20 make it more difficult for the students, Johnson said.
"I would prefer to have a class of 20 or under, especially at the kindergarten level," Johnson said. "They are very high energy and need a lot of one-on- one (attention). When you get over 20 it starts pushing it. I have had over 20 before, (but) it just seems its easier to learn with less than 20."
Johnson said the full-day program would allow teachers to do things that there aren't always time for with a half-day program.
"It allows you to expand, but I don't think it should become a mini-first grade," Johnson said. "It just seems that we are so full in the half-day that it would be nice to go to a slower pace for kids to get more one-on-one instruction in things they are struggling with."
Stern said the decision on the program all comes down to whether the district has the funds necessary for the program.
"I think between now and our next board meeting it will be our superintendent along with our board members examining our budget just to make sure it fits within our budget," Stern said.
State recognition
According to the Kansas State Department of Education, full-day kindergarten programs are not recognized because the state cannot afford it.
Dale Dennis, deputy commissioner for school financing, said implementing an all-day kindergarten program would cost the state $65-$70 million annually. Although the cost of the program would be enormous, Dennis said Gov. Bill Graves wants to add the program to Kansas schools and has suggested a five-year plan in which to do so.
Schools that already have the all-day program have had to make cut backs in other areas to fund the program, Dennis said.
In addition to a lack of funding, Dennis said the state has had difficulty in recruiting and retaining teachers due to teachers leaving the education field for the private sector.
The average teacher in Kansas is paid $11,000 less than those people with a similar education. The problem will be solved when a stronger emphasis is placed on education, Dennis said.
Dennis said he met a former teacher who now works as an assistant manager at a fast-food restaurant. The teacher chose to leave because the job with the fast-food chain paid him far more and gave him better benefits than his teaching job.
"School districts can't compete with that," Dennis said.
Legislative aspects
State Rep. Ray Cox, whose district encompasses Bonner Springs, Edwardsville, Basehor and other nearby cities, said the lack of funding for all-day kindergarten in Kansas is really part of a bigger, more complex funding problem for education across the state.
Cox said funding for education in the state is millions of dollars short. Until the funding formula for schools is corrected, it would be difficult, if not impossible, to get the amount of money needed to begin funding all-day kindergarten in the state, he said.
"Hopefully, we'll eventually get a new formula," Cox said. "That's it, period."
Cox said he would support raising the state's sales tax by three-tenths of 1 percent to raise money for education if the new tax had a sunset provision in about two years, which would mean legislators would have to vote to renew it at that time.
In its efforts to ease the hardships placed on school districts with this year's funding shortfalls, Cox said the Kansas House of Representatives recently passed a bill that would raise the local option budgets for school districts from 25 percent to 30 percent. The Kansas Senate has yet to act on the bill.
Cox said one of the problems is that funding school districts receive from the federal government is usually earmarked for specific things. Cox, a former school board member himself, said he believes the federal government might be better off to allow districts the option to spend money where they believe it is most needed. If one district wanted all-day kindergarten, that school board could distribute the money in a method that would allow that to become a reality, he said.
"They're elected just like I'm elected," Cox said. "Give them the freedom."
In addition to funding issues, Cox said he believes many legislators don't necessarily buy into the argument that all-day kindergarten is needed in the state. Therefore, unless the federal government is willing to pitch in the money for the program, Cox believes it might never happen. At the earliest, it will be at least two more years before all-day kindergarten programs would be funded in the state, he said.
A few years ago, Cox said he was asked by Bonner Springs-Edwardsville USD No. 204 to present a bill that would have allowed all-day kindergarten with tuition for the second half-day being paid for by parents. The bill did not make it out of committee to the floor, Cox said.