Rising Prices
Business steady as gas prices remain high
Roller coaster enthusiasts sometimes drive hundreds, even thousands, of miles in search of the best possible ride. Most would probably agree that a series of quick peaks and valleys can help to make a ride more enjoyable.
Of course, like most people across the United States, they don't enjoy experiencing those same peaks and valleys at the gas pump.
Gasoline prices have gone up across the country during recent weeks. In the Bonner Springs and Basehor areas, customers were paying about $1.45 per gallon earlier this week.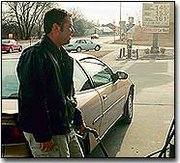 Linda Haynes said the price of gasoline is definitely a concern, but she isn't quite sure what she can do about it.
"I have to have it, so I pay for it," Haynes said. "I am a little more cautious, I guess, but I have to drive to work, so I have to have it."
Danny Vandeberghe said the gas prices are beginning to become unbelievable to him.
"I think it's ridiculous," he said. "I think they're just trying to make money and burn the little people."
Craig Stephan, owner of the Amoco service station in Bonner Springs, said that despite what many customers believe, storeowners also want gas prices to be low. Stephan said people have the misconception that when stores raise the price of gas, all they are doing is pocketing the extra profits.
"People spend so much money at the gas pumps that they don't want to spend any extra money on pop, and they can't afford to get their car fixed."
Stephan said his store is lucky to make five cents per gallon on gas. He said the overall company determines the price individual stores pay for gasoline, and then the stores determine what their street price is based upon their competition. When prices go up, the store sells less gas and the store loses money, Stephan said.
"We want low prices," Stephan said. "Believe me, I want them in the worst way."
Barbara Parsons, store manager at Wood's Oil in Bonner Springs, said she has heard several things about why prices have been on such a wild swing lately.
"I've been told its because the price of oil has been fluctuating back and forth," Parsons said.
Parsons said pricing decisions are made by the company's corporate office, but also added that her store's business has actually increased since the price hikes.
"In fact, our gas business has increased," Parsons said. "More people buy because they're fearful the prices might go higher."
Parsons said customers should expect to see higher prices at the pumps in the future.
"I was told it was going up and would be increasing during the coming months into the summer," Parsons said.
Don Call, store manager at Bichelmeyer Brothers Groceries in Basehor, said the recent hike in gasoline prices hasn't had much impact on business.
"It's hard to get people to stay home," Call said. "They're going to buy (gas) regardless, I think."