Tribe pitches casino proposal
Caroline Trowbridge, Staff writer
Dee Ketchum is shopping for real estate in northeastern Kansas.
Ketchum, the chief of the Delaware Tribe of Indians, met last week with the Leavenworth County Commission, seeking support for a casino in the county.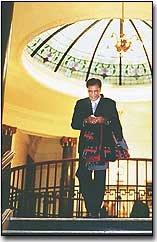 In what he termed a "courtesy call," Ketchum talked in generalities about what a $52 million casino complex could mean to the county.
The casino, community center and entertainment center could employ from 800 to 1,400 people, Ketchum said.
"The majority of the profits go back to the Indian tribe," he said.
But he added that any community that works with the tribe could expect help with such improvements as roads, schools, water and fire.
"We're very, very receptive to that," he said. '' I think we can help with the tax structure. We know what not paying taxes means."
Those words piqued the interest of Tonganoxie Mayor John Franiuk. So after the meeting, Franiuk and City Administrator Chris Clark talked with Ketchum about visiting Tonganoxie.
At Monday night's city council meeting, council members agreed they would be willing to listen to what Ketchum has to say. But several council members cautioned that they believe any move toward a casino would require much discussion and planning.
After Thursday afternoon's meeting with Ketchum, county commissioners said little. Ketchum said he hopes the county commission could give its blessing within three months.
"I really think the ball's in their court," said Don Navinsky, commission chairman. "I am surprised I haven't gotten a lot of public reaction out of that."
That's likely, Navinsky said, because Ketchum would not detail precisely where the tribe is looking. He did say he met with a city in the area that is very interested. And he spoke highly of the city of Basehor, which he described as a beautiful town.
But Mayor John Pfannenstiel said he's had no contact with members of the Delaware tribe.
If the tribe can secure land, he said it would be put in trust, and the Federal Bureau of Indian Affairs would hold the title. In addition, the tribe would have to secure a compact with the state of Kansas to open a casino.
Ketchum had talked last year with members of the Lawrence Chamber of Commerce. But ultimately, the tribe's plans for a casino near Lawrence Municipal Airport were met with opposition. Therefore, the Delawares decided to look elsewhere, in areas with potential growth.
Ketchum said his 10,500-member tribe doesn't want to force a casino on a community.
"We don't want to go to court," he said. "We'd like to be a good neighbor, wherever we would go."
Leavenworth County was a natural, Ketchum said, because the Delawares lived in the area between 1830 and 1867, before they were moved to Oklahoma.
Although Ketchum wouldn't speak specifically about where the tribe is looking, he did say that highway access is important.
"The more accessibility, the better," he said. "I'm hesitant to go into residential areas."
County commissioners made no public comments last week, and commissioners said there would be time for that later.
Carolyn Tillotson, a former state senator from Leavenworth, voiced her opposition.
"Leavenworth County needs good economic development," Tillotson said. "Casino gambling is not good economic development."
Ketchum disputed studies that show casinos bring an increases in crime and gambling among young people.
"In reality, all those things go down," he said. "I'm a Christian, and I don't gamble, quite truthfully. But my council told me they wanted to look into economic development."