Bobcats edge Mill Valley for win
Hosting Sub-State was already inevitable, but hosting a first-round game was still up for grabs.
With Tuesday's 48-47 win at Mill Valley, the Basehor-Linwood boys can now plan on staying home for a while.
The victory secured the Bobcats at least a third seed in next week's Class 4A Sub-State Tournament.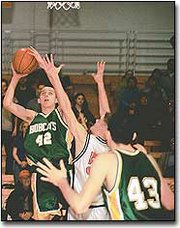 "I'm pleased with the guys for getting through it," said Basehor-Linwood head coach Dan Miller after Tuesday's road win. "It was an ugly game and we played poorly, but at this point of the year, you're moving on."
Leading 46-45 with under a minute remaining, senior Brandon Fisher stole the ball on back-to-back Jaguar possessions. Fisher was fouled each time, combining to hit 2-of-4 from the line to put B-L up by three with 21 seconds left.
Mill Valley struggled to get a three-point look and Jaguar senior Jason Andrews hit a running lay-up with 1.5 seconds remaining.
An in-bounds pass went to sophomore Brandon Dye, who was immediately fouled with a half-second on the clock. After missing the first shot, Dye purposely missed the second to avoid any chances of a Mill Valley desperation shot.
The Bobcats trailed for most of the first half, allowing numerous Mill Valley putbacks inside the lane. Also contributing to a 19-17 deficit were 11 first-half turnovers committed by the Bobcats.
"We just weren't crisp with our post-ups and our post passes, so we've obviously got some things to clean up before next week," Miller said.
Basehor-Linwood took its first lead of the second half just before the end of the third quarter. Dye hit a three-pointer from the wing, then Colby Kooser provided a bucket after a steal. Travis Fouts then tipped in a missed shot right before the buzzer to put the Bobcats up 34-30.
Mill Valley put the Bobcats into the bonus to start the fourth quarter, which the visitors took advantage of early. Fisher and Mike Horn hit two foul shots each, then Fouts added a basket to put B-L up, 40-34.
Fouts led the Bobcats (13-6 overall, 11-4 league) with 13 points.
Score by quarters:
Basehor-Linwood 8 9 17 14 48
Mill Valley 11 8 11 17 47
Basehor-Linwood scoring: Jackie Kimlin 2 5-6 9, Colby Kooser2 2-3 6, Brandon Fisher 2 4-6 8, Mike Horn 3 3-4 9, Travis Fouts 6 1-3 13, Jake Hills 0 0-0 0, Brandon Dye 1 0-2 3, Eric Peeler 0 0-0 0. Totals: 16 (1) 15-24 48.
Mill Valley scoring: Cody Ptacek 4 1-1 9, Joey Fitzgerald 1 0-0 3, Dominique Burgin 2 0-0 4, Jason Andrews 4 0-0 9, Nick Sterner 0 0-2 0, Ryan Cooley 3 0-2 6, Travis Chavez 8 0-2 16, Jordan Foote 0 0-0 0. Totals: 22 (2) 1-7 47. Three-point goals: Dye; Fitzgerald, Andrews.
Friday's recap
Basehor-Linwood 69, Immaculata 62
Basehor-Linwood made a second-half charge Friday en-route to a 69-62 home win over Immaculata on Senior Night.
Bobcat senior Brandon Fisher led the way with 20 points, six rebounds and four steals in the victory.
"I was just really excited because it was our last regular-season game, especially for us seniors," Fisher said. "I was pumped and just ready to play."
All five seniors contributed to the win as Travis Fouts and Jackie kimlin had 19 and 14 points, respectively. Mike Horn added 11 points and Colby Kooser was on the passing end, dishing six assists.
"Our five seniors answered the bell, especially in the third quarter," said Basehor-Linwood head coach Dan Miller. "We put out a challenge to win every quarter and to close the deal."
The Bobcats opened the first quarter strong, hitting 9-of-16 from the field and keeping Immaculata off the boards.
Fisher's steal and bucket right before the end of the quarter gave B-L a 20-8 lead, its largest of the first half.
Immaculata rallied back in the second quarter with a 10-2 right before the half. The run gave the Raiders a 33-32 lead, but Fouts added a baseline jumper with six seconds left to put the Bobcats up at the break.
Fisher keyed the third quarter for the Bobcats, drilling a three-pointer late to give the hosts a 51-36 edge. Fisher finished with eight points in the frame.
"Brandon played well and he needed a breakout game like this," Miller said. "He's been playing well, but the scoring hasn't been there. He's battled through it and hasn't let that affect the other parts of his game."
The Bobcats never allowed Immaculata to get withing striking distance, only narrowing the margin to seven in the final quarter.
"I think we're moving in the right direction for the last couple weeks. Tonight was a really solid game, and we put ourselves in position after that little slide to be where we want to be."
Score by quarters:
Immaculata 10 22 6 23 62
Basehor-Linwood 20 14 19 13 69
Basehor-Linwood scoring: Jackie Kimlin 6 2-3 14, Colby Kooser 1 0-0 3, Brandon Fisher 7 4-4 20, Mike Horn 5 1-3 11, Travis Fouts 9 1-3 19, Brian Gripka 0 0-0 0, Jake Hills 0 0-0 0, Brandon Dye 0 2-2 2, Eric Peeler 0 0-0 0, Ron Gray 0 0-0 0. Totals: 28 (3) 10-15 69.
Immaculata scoring: Tommy Steinmetz 2 2-2 7, Justin McGlinn 1 0-0 3, Jake Kelly 3 0-0 6, John McEvoy 10 0-0 25, Scott Elliott 1 1-2 4, Eddy Goetz 3 2-5 8, Joe McEvoy 1 0-0 2, Matt Scanlon 2 0-0 6, Robert Todd 0 0-0 0. Totals: 23 (10) 6-11 62.
Three-point goals: Fisher 2, Kooser; Jn. McEvoy 5, Scanlon 2, Steinmetz, McGlinn, Elliott.
Thursday's recap
Basehor-Linwood 74, Lansing 72 (OT)
Free-throw shooting has been a strength for the Basehor-Linwood boys all season.
Thursday night, that strength disappeared. Fortunately for the Bobcats, Lansing couldn't find the charity touch either.
The host Lions missed nine consecutive foul shots, allowing Basehor-Linwood to recover from a nine-point deficit in regulation and then escape with a 74-72 comeback victory in overtime. Bobcat sophomore Brandon Dye led all scorers with 25 points, including the controversial three-point shot that created an extra frame.
In the overtime, the Bobcats held Lansing without a field goal for the entire frame. With three starters fouled out, Eric Peeler hit a field goal and Jake Hills added a free throw in the waning moments to help B-L to victory.
Trailing by nine with 1:04 to go, the Lions proceeded make their errant streak while the Bobcats chewed into Lansing's lead. After five missed charity shots by the Lions, Brandon Fisher made a three-pointer, followed by two Mike Horn baskets inside the paint cut the lead to two with just 14 seconds left.
A quick foul put Lansing's David Jackson at the line, where he snapped the streak by making the first free throw. Jackson then clanked the second foul shot, where Horn rebounded the ball. The Bobcats worked the ball to Dye, who spotted up about three feet beyond the top of the key and banked a three-point shot with no time remaining.
Lansing protested that the buzzer had gone off before Dye's attempt was made.
"The horn went off, but it's like I tell my guys all the time If the official calls it, it doesn't matter," Basehor-Linwood head coach Dan Miller said. "When they did that, I just couldn't believe it. I'm just totally speechless. We had no business going into overtime."
In the heat of the play, Dye wasn't sure whether the shot beat the clock or not.
"I kind of looked at the clock and there was one second," said Dye. However long it takes me to get off a shot, that's about what it was. I just threw it up. I was surprised it went in."
After Lansing opened the game with a basket, the Bobcats used a 14-2 run to build a 10-point first quarter lead. Basehor-Linwood led by as much as 14, thanks to the perimeter shooting of Dye. The sophomore drilled a three-point bomb from the corner in the first quarter, giving the Bobcats a 21-8 edge. He later hit a second quarter trey from the wing to give Basehor-Linwood their biggest margin of 14.
Lansing would not go away quietly, making a 15-4 run right before halftime to pull within three points.
"We played great (in the first quarter), but then we stopped guarding some people," Miller said. "We surrendered a ton of second shots in the second quarter and that allowed them to get some life."
In the third quarter, the Bobcats let the lead slip away, but had a chance to tighten the score with numerous foul opportunities. Travis Fouts netted a field goal at the 6:06 mark, which gave the Bobcats their last lead of regulation, 40-39.
Lansing then made a 9-0 run and the Bobcats followed with a 2-of-7 outing at the line.
Horn hit back-to-back buckets to open the fourth quarter, cutting Lansing's lead to 52-48, but the Lions stretched the lead back up to eight. Free throws and field goals were exchanged as the margin never dipped below six until the last 30 seconds of the game.
Score by quarters:
Basehor-Linwood 23 15 6 21 9 74
Lansing 12 23 17 15 7 72
Basehor-Linwood scoring: Jackie Kimlin 4 2-4 10, Colby Kooser 1 0-0 3, Brandon Fisher 2 0-0 6, Mike Horn 7 2-2 16, Travis Fouts 5 1-7 11, Jake Hills 0 1-2 1, Brandon Dye 8 6-11 25, Eric Peeler 1 0-0 2. Totals: 28 (6) 12-26 74.
Lansing scoring: Hosea Morgan 7 8-12 23, David Jackson 3 2-4 9, Ricky Frierson 1 0-2 2, Cole Gorski 3 1-2 7, Joey McKee 7 6-12 20, Blake Deere 1 0-2 3, Hunter Martin 2 0-0 4, Ben Martin 0 3-6 3, Billy Morehead 0 1-2 1. Totals: 24 (3) 21-42 72.
Three-point goals: Dye 3, Fisher 2, Kooser; Morgan, Deere, Jackson.