Local winery becomes better with age
Les Meyer, part -owner of Holy-Field Vineyard and Winery, said that starting a winery in an area that has never had one is an uphill fight.
If that's true, then Les and his daughter, Michelle, are climbing that hill quite well. Last year, the winery won more than 35 international winemaking awards and medals.
Les and Michelle co-own the winery, which is located west of Basehor at 24-40 Highway and 158th Street.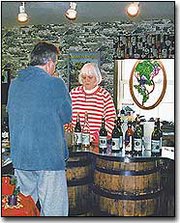 The 30-acre Holy-Field Estate includes a 14-acre vineyard planted with Native American and French Hybrid variety grapes.
The wine list Holy-Field offers has 14 different flavors and prices range from $7.95-$13.95.
Before the winery opened in 1994, Les and Michelle had been growing grapes on the property for eight years.
"We were growing grapes since the late 80s and making our own wine, but never on a commercial basis," Michelle said. "We were selling grapes to another winery but then we got to growing more than they could handle, so we decided to start our own winery. We already had the land, it wasn't that we came here and said, "Let's open a winery."
Les said the key to making good wine is in the growing of the grapes.
"We grow all of our own fruit so we can regulate how much each vine produces," he said. "You can either let a vine produce a lot and have a mediocre bulk of fruit or you can cut it back and have a smaller amount with a really good quality fruit."
The Holy-Field Vineyard has more than 10,500 vines, the first being planted in 1986. The grapes are harvested by hand and pressed immediately after picking. The wine is fermented, aged and bottled in the cellars beneath the winery tasting room.
Michelle said the winery keeps customers coming back by offering a good product.
"I think the thing that keeps people here and keeps them coming back is that number one, we have an excellent product," Michelle said. "Number two, they really respect the fact that grapes are an agricultural product that is totally Kansas. All the wine that is made here is grown here."
The winery derives its name from when 158th Street was called Holyfield Road. Besides wine, the business offers its customers a variety of services.
There is a vineyard room and wine deck that overlooks the vineyard and is available for large parties, receptions and meetings.
The winery also gives their customers a chance to help in the harvest of their fruit. Every Sunday, during season, the winery hosts "Picking Sunday." It's a day that customers help in harvesting.
Each weekend is spent harvesting and crushing a different variety of grapes. Afterwards, there is a lunch buffet and wine served.
For more information on Holy-Field Winery, call 913-724-9463.