Large crowd turns out for families' blood drive
People came to the Bonner Springs Community Center last Thursday for many different reasons.
Some were there to support family members or friends. Others simply felt the need to help the community.
Whatever their reason for coming, dozens of people filled the hallways of the community center for a blood drive sponsored by the families of three area residents who had been diagnosed with Leukemia.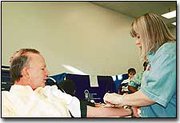 The families of Matt Gilbert and Kyle Chadwick, both Bonner Springs residents, along with the family of Alex Trent, a Lawrence resident, sponsored the blood drive as a way of repaying the community for blood they had used during their treatments.
Gilbert, 27, Chadwick, 7, and Trent, 5, have all received numerous blood transfusions during past months. The three needed the transfusions because chemotherapy treatments deplete the blood, leaving patients tired and weak. All three are now in remission.
Many residents also turned out to show their support for 11-year-old Tony Holmes. Holmes developed toxic shock syndrome from Group A Strep and remains in intensive care at Children's Mercy Hospital. He has been receiving daily blood transfusions in an effort to flush out the infected blood.
The blood drive's organizers' unofficial goal of collecting 90 units of blood was toppled by the overflow crowd at the community center. Overall, 185 people were registered at the blood drive. The Greater Kansas City Community Blood Center representatives also collected 152 units of blood and enrolled 127 people in the bone marrow bank.
The families that took part in the event said they and blood center officials were overwhelmed at the response they received from the community. At one point, over 50 people were in line to donate and the wait exceeded three hours, but they don't believe anyone left. The response was so great that the blood center was forced to bring in an extra crew when they ran out of supplies.
Chad Chadwick, Kyle's father, said the families were not surprised by the generosity of the community.
"In this community, that's the way they are," Chad said. "We were excited. We all thought it was pretty awesome."
Gilbert's wife, Jennifer, said there are so many different reasons people should donate blood.
"It's not just for Matt," Jennifer said. "You don't think about this kind of thing until something happens in your life and you need it. This is a way to save someone's life."
Linda Losier said she donated blood because it was the best way for her to show her support to all the families involved.
"I think it's a necessary thing to give blood if you can and it helps a lot of people," Losier said. "I live in Bonner Springs and I just thought it would be a nice thing to come out and help. You never know when someone in my family might need the same kind of help."
Jane Gilbert, Matt's mother, said people should have no problem finding the motivation to donate blood.
"I think if they ever saw the need in a child or in a young father, like Matt, they would donate because it's very heart-wrenching," Jane said. "I've seen so much. It's just such an important thing when you see people going through this."
Barbara Burdine, community center coordinator, said she would definitely encourage other people to donate.
"What I would tell them is it's simple to do, it's easy, it takes very few minutes out of your day and it is probably one of the greatest gifts you can give," Burdine said.
Gilbert said he is grateful, but not at all surprised, by all the people who turned out to show their support for the blood drive.
"There's not really anything you can say to anybody except that you appreciate it," Gilbert said. "And you do appreciate it a lot."