Bonner Springs rallies for win over visiting Atchison
The Bonner Springs Braves battled back from a third period deficit to defeat the Atchison Redmen, 64-59, on Tuesday. The Braves will play at perennial Huron League power Sumner Academy on Friday and then try to defend their title at the Tonganoxie tournament next week.
The win was huge for the Braves who snapped a two-game losing streak and broke a six-game winning streak for the Redmen. Atchison was ranked second in the state in 4A basketball coming into Tuesday's game.
"We did need a Huron League win to stay in the hunt for any league honors," Coach Jim Bonar said after the game. They had us down in the third period and we didn't fold and came back, that showed character."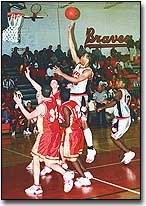 Bonar added that the Braves face a tough stretch. "We will find out who we are (against Sumner)," he said.
Following Friday's game at Sumner, the Braves will take on Van Horn on Tuesday at 7:30 p.m. in the 42nd-annual Tonganoxie tournament.
The final seconds of the win were hectic as Bonner Springs and Atchison both missed key opportunities, however, for the first time in the past couple of games the Braves were able to capitalize on free throws and benefited from turnovers to take the win.
Atchison held an eight-point lead, 39-31, with 4:52 left in the third period. Bonner Springs was able to put together an 11-2 run to cut the lead to 45-43 at intermission. Darryl Anderson had his first three pointer of the season with 12 seconds left in the period.
Sean Birdsong canned a driving layup with 6:30 left in the game to tie the score at 45-45. Atchison tied the game two more times and the Braves utilized free throws by Chris Cobbins, Birdsong, Anderson and Joe Botts to move to a 49-46 margin. Atchison moved back in front, 55-54 with 2:26 showing and sophomore Michael Cook hit a short jumper on a feed from Birdsong to put the Braves in front to stay, 56-55. Seconds later, Birdsong had a steal and layup for a 58-55 margin.
Missed free throws kept the Braves from putting the lid on the win. Senior Alfonzo Cole hit two clutch free throws with 41 seconds left for a 61-58 lead. Cole came back from an injury resulting in nine stitches over his eye suffered in the final moments against Ottawa.
Cook hit one-of-two for a 62-59 lead for the Braves with 15 seconds left. In the final seconds of the game, Atchison had an offensive foul and Birdsong netted crucial free throws of the margin of victory.
Birdsong led the scoring for Bonner Springs with 24 points while Anderson had 14 and Cole chipped in 10.Anderson continued his string of double-doubles with 14 rebounds.
Score by quarters:
Atchison 10 16 19 14 - 59
Bonner Springs 9 12 22 21 - 64
Bonner Springs: Aaron Weathers 0 0-0 0, Sean Birdsong 8 8-12 24, Chris Cobbins 0 1-2 1, Gary Pinks 1 1-2 3, Michael Cook 2 1-2 6, Greg Forshey 0 0-0 0, Alfonzo Cole 3 4-6 10, Darryl Anderson 5 3-5 14, James Bass 0 0-0 0, Joe Botts 2 2-4 6, totals 21 20-33 64
Atchison totals: 18 16-30 59. Three point goals: Anderson, Cook.
Friday's recap
Ottawa 69, Bonner Springs 65
The Ottawa Cyclones held on to take a 69-65 win over the Bonner Springs Braves in a game that featured a furious and, literally, blood finish last Friday at OHS.
It was a heart-breaking loss for the Braves who saw an eight-point lead melt in the fourth period as Ottawa drilled key treys to catch up. On the other hand, Bonner Springs played well, showing tremendous improvement after a tough loss to Bishop Ward.
With 6:43 left in the game, Sean Birdsong outfought Ottawa defenders for a rebound and then put in a follow shot for a 58-50 Braves lead. Utilizing their three point shooting, Ottawa battled back in front, 63-62, but Birdsong answered with another short jumper for Bonner's final lead, 64-63 with 1:39 remaining.
Ottawa relied on treys by Cale Drumright and Chris Hemrick to remain in the game in the fourth period. Drumright nailed a three pointer for a 66-63 Ottawa lead. Adam Spratt hit one-of-two free throws to give the Cyclones a 67-65 lead.
Birdsong again answered, this time hitting two free throws to cut the margin to 67-65 with 30.6 seconds left in the game. Ottawa turned the ball over and the Braves started down court against the rugged Cyclone press with a chance to tie or take the lead. In the battle to cross the line, Alfonzo Cole and Greg Forshey were both knocked down leaving the Braves only three players available to break the press.
Despite the fact that two players were down and Cole was bleeding, play wasn't stopped until a 10-second violation was called giving the Cyclones the ball. The lack of an injury timeout caused frustration for Bonner fans. Forshey was not injured, but Cole was helped from the floor with a cut that required stitches. He received a standing ovation from the Bonner fans as he left the field.
Ottawa scored a pair of last second free throws for the final margin.
The Cyclones trailed by as much as 15 points in the first half, trailing 37-31 at intermission.
Birdsong had 10 of the Braves' 11 points in the fourth period. Bonner Springs played a major portion of the second half without Darryl Anderson due to foul problems. The fiery 6-4 center fouled out with 6:35 remaining in the game.
Birdsong led the Braves in scoring with 27 points and had a double-double with 12 rebounds. Cole scored 12 points and had three assists. Anderson tallied 10 points and pulled down 13 rebounds to continue his double-double string.
Score by quarters:
Bonner Springs 25 12 17 11 65
Ottawa 12 19 19 19 69
Bonner Springs: Sean Birdsong 9 9-9 27, Chris Cobbins 0 1-2 4 1, Gary Pinks 3 3-3 4 9, Michael Cook 1 0-0 1 2, Greg Forshey 0 0-0 1 0, Tom Gardner 0 0-0 0 0, Alfonzo Cole 5 2-2 3 12, Darryl Anderson 5 0-0 5 010, Joe Botts 2 0-0 3 4. Totals: 25 15-16 65
Ottawa totals: 34 14-23 16 69
Braves notes . . .
The Bonner Springs dance team changed things on Tuesday and performed after the game.
* * * *

Nathan Fulkerson, former Braves' basketball star, was the competitor in the Brewers' Price Chopper contest. He managed only a lay-up.

* * * *

The Bonner Springs JV tournament will be held next Monday and Tuesday. Teams competing are Bonner Springs, Bishop Ward, Gardner-Edgerton and DeSoto.

* * * *

Bonner Springs may have had its best-ever free throw shooting at Ottawa last Friday. They hit 15-of-16 at the free throw line for 94 percent.