'

Canes mascot snafu brings Laffere national recognition
Basehor- Linwood graduate and University of Miami senior left guard Greg Laffere had a lot to celebrate in the Miami Hurricanes' win over the Florida Gators in the Nokia Sugar Bowl on Jan. 2.
He just didn't plan on celebrating with the Miami team mascot Sebastian the Ibis before the game had even ended.
Following a fourth quarter touchdown that sealed the 37-20 win for the Hurricanes, Sebastian rushed into the end zone and hugged the surprised Laffere.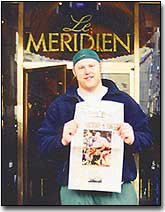 "I didn't know what he was doing." said Laffere. "There was a huge pileup in the end zone and I was fighting my way out and just as I got to my knees, I see this big fuzzy bird run up and start hugging me."
"So I'm trying to get off the field but the ref has already thrown the flag giving us an unsportsmanlike conduct penalty. Just as he threw the flag I turned to Ibis and said 'What in the hell are you doing?' He turns, looks at me and says 'Uh-Oh' and runs back off the field."
"When BD (Miami head coach Butch Davis) heard the penalty was on the bird he wasn't very happy."
The penalty eventually led to Miami attempting and making a 50-yard extra point. But the fun didn't stop there.
Laffere's parents, Basehor residents Mike and Karen Laffere, along with other family members who attended the game didn't think it was that big a deal until the next day when they saw the front page of the Louisiana newspapers.
"We had just sat down for breakfast when we looked at the paper and saw Greg and the mascot on the front page and I said 'Oh my God, is that the front page?' said Laffere's mother Karen.
"We were all very surprised it made the front page and thought it was very funny," said father Mike.
So how does it feel to have your 15-minutes of fame, following a successful college football career end up being a hug by Ibis?
"I have been here three years now and helped do a lot to improve the program. We've won three straight bowl games, beaten UCLA, Virginia Tech, Florida State and Florida. But now I'm just going to be remembered as the guy who hugged the Ibis" said Laffere.
Up next for Laffere is this Saturday's Gridiron Classic at Orlando, Fla.
The game will feature all-stars from the Florida colleges against all-stars from the rest of Division-I. The game will be shown on ESPN2 at 12:00pm Saturday.