Association plans fund-raisers to sponsor improvements
Athletic association seeks more volunteers
Five years ago the Basehor Athletic Association saw the fruits of its labor when construction of the Basehor Field of Dreams complex was completed.
The Field of Dreams complex was built through funds raised by athletic association volunteers over the past several years.
Today, Basehor Athletic Association President Bob Purtee wants to make the complex even better.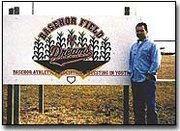 "In the past five years we've had outstanding volunteers. But to get to where we want to be we need more. We need volunteers who can do some plumbing and electrical work. We need bleachers painted, people to work the concession stand, general maintenance type stuff so we can maintain our existing facilities and eventually make them better ," Purtee said
Purtee said the athletic association has a list of projects it would like to complete to upgrade the facility.
"Our priorities are to make the infields of all the fields more playable, chip and seal the driveway and parking lots, give the concession stand a whole new facelift with more product and do concrete work to cut down on erosion," Purtee said.
According to the athletic association the Field of Dreams complex is a non-profit, self- supporting organization that receives no county or local subsidies. The athletic association relies solely on the support of the community.
Other sports programs, like Bonner Springs, have lower participation fees, but are run through the city recreation department.
"The money that we do get from things like entry fees and candy and trash bag sales is enough to keep us going. We don't want to charge for parking, but we have to. By no means do we make a lot of money. That's why we need volunteers, so we can get things done that need to be done in a cost-efficient way," Purtee said.
In an effort to generate more revenue for these projects, the athletic association will host several fund-raisers this year.
On Feb. 17 there will be a Sweetheart Dance starting at 7pm at Father Quinlan Hall in Basehor. There will also be a silent auction during the dance where pieces of sports memorabilia will be sold off. Tickets for the dance are $12.50. For more information call Bob Purtee at 724-1108.
Baseball and softball coaches are encouraged to attend the equipment sale on March 10 at Basehor-Linwood High School. The sale will last from 8am-noon. The athletic association will sell all of its equipment during the sale and parents will be able to register their kids for summer baseball.
The athletic association will also continue to provide billboard advertisements to local businesses. Cost for the professionally-painted billboards is $200 for the year. For more information on sign purchases, contact Randy Lane at 724-2003.