Bonner Springs' Vogel wins 130-pound crown
WICHITA For Bonner Springs, eight individual hopes for a placing were denied, but in the end, all came away supporting in unison for one Saturday.
Braves senior Jimmy Vogel took home the Class 5A 130-pound individual crown at the Kansas State High School Wrestling Tournament, defeating Topeka West's Darion Terry by a 12-4 major decision.
"I can't describe it at all. I'm overwhelmed," Vogel said. "I knew I could do it, but it's still hard to believe. As the match went on, I felt like I was getting more energy, instead of decreasing. I felt real good about what I was doing."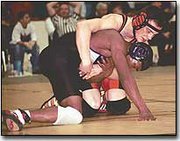 "He just wrestled really well," added Bonner Springs head coach Randy Lowe. "He did what we knew he was capable of doing. We knew he was good enough to wrestle at that level."
Vogel's teammates, stationed in the southeast corner of the Kansas Coliseum, donned body paint on their chests spelling out "GO JIMMY!"
Yes, even a wrestler sported an exclamation point over his bare chest. The exclamation could easily have described the senior's run through the two-day tournament.
"It was always my goal, but it was a long stretch for me in my own mind," said Vogel.
In the quarterfinals, Vogel took out last year's Class 5A 125-pound State champ in Jesse Fleenor of Hays, then redeemed himself from a regional defeat with a 7-0 blanking of Kansas-City Washington's Aaron Huenink.
Vogel, who lost the previous meeting against Huenink by a slim 7-6 margin, had no problem handling him in the quarterfinal.
"In the long run, it might have helped him," Lowe said about the regional loss at Holton. "Going in, we thought it was going to hurt him, because he comes in as a three seed and wrestling Fleenor in the quarters, instead of the semifinals.
"As it turns out, it might have been the best thing for him."
Huenink never had a chance against Vogel, who stayed on top of the Washington senior's back for most of the match.
"I just think he got so much adrenaline coming off a big win against Fleenor," Lowe said. "He realized at that point how good he could be and he wasn't going to let this guy beat him.
"Once he got a big lead on Huenink, it broke his spirit a little bit."
But it was the 14-3 win over Fleenor that set the tone for the title run. Vogel dominated the former state champion from the start.
"Once he got Fleenor on his back a couple times and realized he was kicking the crap out of a State champion, I think his confidence boomed."
Vogel and Brock Peterson (152) were the only Braves to register victories after the opening round, which didn't sit well with Lowe from a team standpoint.
"After the first round, I was a little nervous of where we were going to be," said Lowe, who is leaving Bonner Springs to be the head coach at the new Blue Valley West school next year. "We've got a couple kids that were disappointed, but I think for the most part, it's such a learning experience.
"Only a few of these kids have been down here before, so to come down here and see it for the first time, it's really tough. It's a tough environment to wrestle in."
Five of the seven first-round losses came courtesy of pins, while Matt Middleton (112) and Donnie Shepherd (135) lost a pair of decisions.
Peterson won his opener, earning a 7-6 comeback decision against Salina South's Joe Zackary.
Peterson, a sophomore, trailed Zackary by a 5-2 deficit, but scored an escape and a takedown to tie. He then allowed Zackary to escape, but in the final seconds, Peterson scored another takedown for the win.
"He's a competitor," said Lowe of Peterson's victory. "He just does a great job of working to get a point."
Middleton, Chad Vandenburg (125), Spencer Buck (140) and David Bass (215) all picked up consolation victories, but neither could advance any further.
Bonner Springs finished 19th- in the 32-team field, scoring 38 points. The number was a far cry from Paola, who dominated the Class 5A meet with 147.5 points.
For Lowe, Vogel's victory was memorable, considering it was his last match on the sidelines for the Braves.
"It makes it tough leaving Bonner, but it was a great way to end it," Lowe said about the win. "You can't ask for it from a better kid. I've coached him for four years and never had a kid any better than he is. He's everything you want out of a high school student-athlete."