Dukes places second at State
WICHITA Matt Dukes' thrillling ride into the 145-pound final ended in just 31 seconds Saturday.
The Basehor-Linwood junior, who was the only Bobcat medalist, lost his bid to become a State champion when Holton's Ryan Phillips pinned Dukes to win the Class 4A individual title.
"Phillips came out with a plan and he executed it," said Basehor-Linwood head coach Scott Neil. "(Matt's) pretty down about it. He's not the first one to be caught in that position, and he won't be the last."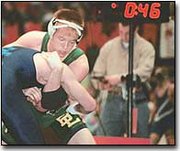 For Dukes, the loss was a consecutive one to Phillips, who also had a first-round pin against the junior at Class 4A Regional play at Holton.
"A lot of people will look at that 30-second loss and say he shouldn't have been here," Neil said. "Last year, he didn't place and this year, he's standing on the second place podium.
"I imagine that Matt Dukes will re-double his efforts and he'll be right up there again next year," Neil added. "He's a tough kid and he'll feed off that."
On Friday, three straight wins, two by fall, propelled Dukes into the championship round. Dukes earned a third-round pin against Bryce Roy of Rose Hill, then disposed of Scott City's Levi Heinrich in a second-round fall.
"When I looked at his bracket earlier this week, I thought we couldn't be sitting much better," Neil said. The only kid I was worried about was (Heinrich)."
Dukes capped Friday night off with a 4-0 decision over Brandon Vanderbur of Osawatomie. After the conclusion of the opening day, Dukes was suprised to be in the final.
"I wrestled real smart and didn't make any dumb mistakes," Dukes said. "When I felt they were getting tired, I just picked it up even more."
"I didn't think I was going to do as good as I did, but I pulled some stuff out," he added.
Bobcat sophomore Brandon Buck (152) was the only other B-L wrestler to win a first-round match. Buck cruised to a 13-3 major decision over Augusta's Jesse Smith.
However, in the quarterfinal, Buck lost a 5-2 decision to Zack Luedke of Lyons. Buck, who went 0-2 at State last year, fought back with another major decision, 15-5 over Atchison's Jake Weishaar.
Buck bowed out in the next match, losing to Chanute's Casey Finley.
Cody Bell (103), Tim Morgan (125) and Matt Gillett (275) all fell in the first round. Bell and Morgan both lost by major decisions, while Gillett, a top seed in the heavyweight division, was knocked off by Clearwater's Steve Kakoulias in a third-round fall.
"I'd hoped to do a litte better, but Cody and Tim had a couple of first-round draws," Neil said. "I don't think (Gillett) was very focused on his first match, but the second, he did a lot better."
Gillett, a junior, came back in the consolation round with a second-round pin over Butch Tanney of Shawnee Heights.
Bell rebounded from an 11-3 loss in the opening round to win an 11-2 decision against Scott City's Conine Zack. The freshman then knocked off Marcus Waters of Lansing.
Morgan fell in two matches, an 18-2 decision followed by a third-round fall.
"He just wrestled sloppy the whole day," Neil said. "I thought he could have placed. We talked about it. He understands and, in fact, he told me that his technique has got to be better."
Colby dominated the Class 4A State Tournament, winning the event with 128.5 points. Basehor-Linwood finished 35th out of the 56-team field.