Pfannenstiel, Hooker advance in election
School board candidates dwindle in Position No. 4 and No. 5 races
And then there were two.
Basehor resident Bill Hooker and mayoral incumbent John Pfannenstiel will advance to the general election in April.
Voter turnout was low as only 394 voters went to the polls, but Hooker received the majority vote with 156 votes, almost 40 percent of the vote total.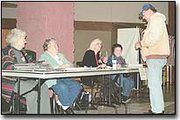 Pfannenstiel received 100 votes, which amounted to 25 percent of the vote. The mayor said no outcome on Tuesday would have surprised him.
"I don't think there was any result that would have surprised me," Pfannenstiel said. "I hadn't a clue as to what the result would be."
Hooker said he was satisfied with his votes in the primary.
"I am obviously very pleased that I finished in the top two, and I fully recognize there is still a general election to come," Hooker said. "I would have hoped that John Pfannenstiel didn't finish in the top two."
Randy Cunningham received the third highest amount of votes at 85, just 15 behind Pfannenstiel, for 21 percent of the total.
The fourth candidate, Dennis Nichols, received 53 votes for 13 percent of the vote.
Hooker said he thinks the inclement weather was a factor in the low number of voters and that his vote total would have been higher if not for the snowstorm.
"I think the weather had a very adverse effect on the voter turnout, and I think that a lot of other people, understandably, did not go because of the weather, and I think I lost a lot of votes on behalf of that," Hooker said.
Pfannenstiel said he is pleased to move on to the general election April 3.
"Certainly, I am pleased with the results," Pfannenstiel said. "I asked the citizens of Basehor to give me the benefit of the doubt and apparently 100 of them did."
Pfannenstiel said his main focus for the next few weeks will be on his trial that will begin March 19th.
"I have done my part politically, so the next couple of weeks my attorney will have to do his part to get the criminal charges resolved," Pfannenstiel said. "Then, I will have to do my part to get the word out to folks to get them to the polls April 3."
Hooker said he doesn't have any plans on campaigning before the general election.
"I just don't have any definite plans," Hooker said. "I don't have a heck of a lot to say about what I am going to do. I am where I am because people want me to be there."
Pfannenstiel said he hopes the Basehor Chamber of Commerce will host another candidate forum, similar to the forum sponsored by the chamber on Feb. 13.
"I hope that there is another candidate forum and that Bill Hooker will actually attend," Pfannenstiel said. "I will be focusing people's attention on the accomplishments that I have had, not just in the last four years, but in the last 12 years as a member of the City Council and chairman of the park association."
Hooker said he is confident for the upcoming election.
"I expect to win," Hooker said.
In other primary results:
The race for Basehor-Linwood School Board Position No. 4 was a close one.
Michael Mustain and Ronald Owen received the two highest totals, but Mark Davis was not far behind.
Mustain received 121 votes, which amounts to a 36 percent total. Owen received 114, with 34 percent of the vote.
Davis was just behind the two with 98 total votes.
For School Board Position No. 5, Patrick Jeannin received the highest total number of votes with 59 which is 38 percent, and Douglas Bittel finished second at 35 votes and 22 percent.
Warren Kennedy and Ronald Grover were seperated by one vote, with Kennedy getting 30 and Grover receiving 29.
The general election for the school board positions, city council and mayor is April 3.