Broncos edge Bobcats in semifinal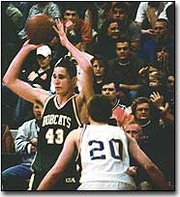 Starting slow translated into a quick exit for Basehor-Linwood on Thursday.
The host Bobcats lost to Spring Hill 84-76 in Class 4A Sub-State semifinal play, bringing a stunning conclusion to the 2000-01 season.
Spring Hill, which never trailed in the contest, jumped out to a 6-0 first-quarter lead and held as much as a 17-point advantage in the game.
"We just waited too long to get going," said Basehor-Linwood head coach Dan Miller. "We didn't do a good job of defending anybody in the first half. We were having to scrape out of a hole."
The Broncos connected with 19-of-29 (65 percent) from the field in the first half, continually getting open shots against a Bobcat defense.
"I thought we had some shots early on and if they go in, I think we settle in," Miller said. "The bottom line was we just didn't guard them and that makes it pretty tough."
The visiting Broncos spent a good portion of the game at the charity line, hitting 25-of-38, with 23 of those makes coming in the final quarter.
Basehor-Linwood battled back to a two-point deficit late in the third quarter and trailed by three in the fourth quarter twice, but never could take the lead.
"I felt that we were a little shell-shocked of the environment and the magntiude of the game early," Miller said. "By the time we settled in the second half, we played pretty well."
Helping the transition was a 9-of-14 shooting effort in the third quarter, which allowed the Bobcats to contend late in the game.
Trailing 44-27 in the third quarter, senior Brandon Fisher netted a pair of three-pointers around a Travis Fouts bucket to cut the margin under 10.
Fouts then scored three consecutive field goals to move the Bobcats within five. Spring Hill increased the lead back to 53-44, but Fouts and Jackie Kimlin hit back-to-back field goals.
After a free throw, Fouts added two foul shots to put Basehor-Linwood down by two, 53-51, with 32 seconds left in the quarter.
Bronco senior Paul Ray singlehandedly maintained the lead for the visitors in the fourth quarter. Leading 59-56, Ray responded with two foul shots, a stolen in-bounds pass and an easy layup in a three-second span.
The Broncos increased the margin up to nine with just untder a minute left in regulation, when Basehor-Linwood made its last push.
Fouts scored on a putback, followed by a Kimlin jumper and another field goal by Fouts. The quick 6-0 spurt pulled the Bobcats within three with 24 seconds left.
Spring Hill ended the comeback by hitting 5-of-6 foul shots
"I'm awful proud of our kids," said Miller. "They just scraped and fought. They gave everything they had. We just got started a little late, and you can't do that in sub-state semifinal play."
Mike Horn led the Bobcats with 20 points, while Dye came off the bench with 19 points.
"He's not afraid to shoot it," Miller said when asked about the sophomore. "He hit some big shots for us to let us climb back in a little bit."
The loss not only ended the season for the Bobcats, but closed out an impressive 15-7 record in Miller's first year as the boys' head coach.
"We had a tremendous season and we've had a lot of good things happen in the program," Miller said. "There are a lot of disappointed young men in that locker room right now."
Those five senior guys has been the leaders and we're going to miss them."
They're tremendous basketball players and they are tremendous young men."
Score by quarters:
Basehor-Linwood 13 14 24 25 ? 76
Spring Hill 18 21 16 29 ? 84
Basehor-Linwood scoring: Jackie Kimlin 4 2-2 10, Colby Kooser 1 0-0 2, Brandon Fisher 2 2-2 8, Mike Horn 8 4-7 20, Travis Fouts 7 3-5 17, Brandon Dye 7 0-1 19, Jake Hills 0 0-0 0, Brian Gripka 0 0-0 0, Eric Peeler 0 0-0 0, Ron Gray 0 0-0 0. Totals: 29 (6) 11-17 76.
Spring Hill scoring: Michael Knaebel 5 4-9 14, Calvin Loveall 1 4-5 6, Mark Mathew 4 2-3 10, Clint Whitson 4 1-2 9, Paul Ray 8 11-15 28, Grant Newcomb 0 0-0 0, Justin Miller 3 0-0 6, Richard Hannah 4 3-4 11. Totals: 29 (1) 25-38 84.
Three-point goals: Dye 4, Fisher 2; Ray.