Prolonged injury causes
BLHS

graduate to punt going pro
Laffere says farewell to football
Basehor-Linwood graduate and former University of Miami left guard, Greg Laffere, had a good college career. He exceeded expectations and helped to change the perception that an athlete from a small school couldn't compete with players from larger ones.
Laffere, did have hopes of playing in the NFL, but on the advice of his doctors has decided not to pursue his dream of playing on Sundays.
He is now saying goodbye to football.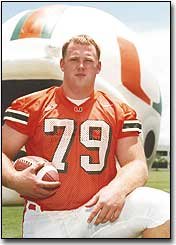 "It was mainly a health reason. It wasn't that I didn't want to go on," Laffere said. "Coming back from the Sugar Bowl and then the Grid Iron Classic and after working out, my knee would just keep swelling up and I was experiencing a lot of pain," Laffere said. "To me, it wasn't that I made the decision. It was that the decision was already made and I just had to face up to the fact that it was."
Laffere has cartilage damage is in his left knee and has already had two knee surgeries since his first year at Miami. Doctors have told Laffere that even if he doesn't damage his knee further, he will still probably need a knee replacement later in life.
"It is kind of a degenerative thing," Laffere said. "The spot where the cartilage was torn off the knee and the way my body moves, it was just going to keep breaking down."
Laffere said the weeks after his decision to leave the game was tough, but he has since moved on.
"The first week after was really hard, or actually the first couple of weeks," Laffere said. "But after that, I deal with things pretty well. I realized that there is no other alternative and that life will go on."
On Saturday night, Laffere was honored at halftime of the 4A Sub-State championship game at Basehor-Linwood by being named the best athlete in Basehor-Linwood High School history.
Reflecting upon his football career, Laffere said Miami's 27-24 win over defending national champion Florida State was his most gratifying moment on a football field. After that game, Laffere was named co-MVP along with quarterback Ken Dorsey.
"For us, they had been our rivals forever, the national championship passed through that game for a long time," Laffere said. "Florida State liked to talk and tell us it wasn't a rivalry anymore. For us to go in there after we had already lost to Washington and come back and beat the national champs, it was validation for us that we were a good team and that Miami was back."
Laffere will graduate this spring with a degree in criminal justice and has hopes of coaching at the college level.
"I am going to try to get a graduate assistant job coaching," Laffere said. "If not, I'll find something I like to do and go from there."