Schedule reflected in Bobcats' success
Qualifying only one less individual than last year for the state tournament, the Basehor-Linwood wrestling squad still made huge strides during the 2000-2001 season.
Highlights of the season included opening its new gymnasium, hosted the inaugural Bobcat Classic and nearly producing a state champion.
But perhaps the most pleasing clip on this season's reel will come next year, when all five Basehor-Linwood state qualifiers return to battle next winter.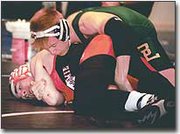 Cody Bell (103), Tim Morgan (125), Matt Dukes (145), Brandon Buck (152) and Matt Gillett (275) were qualifiers for the Class 4A State Wrestling Tournament this year. Dukes, Buck and Morgan were making their second trip to the state meet, while Bell and Gillett made their first appearance.
"They got a ton of experience down there," said Basehor-Linwood head wrestling coach Scott Neil. "We're still going to be pretty young next year, because we are only going to have three seniors. I think you're going to see some tough kids."
Seeing tough kids out of the Bobcat program will be credited to facing other tough kids. Hosting the two-day, 20-team Bobcat Classic featured some of the best competition that the state of Kansas had to offer, plus adding in Glenwood (Iowa), which comes from a state that is rich in wrestling tradition.
"You are not going to get better by beating up on kids all the time that are not up to your caliber," Neil said. "If you wrestle people like Garden City and Paola and Clay Center, it gives you a good measuring stick and a good experience."
Seeking out stronger opponents played a key role in Matt Dukes' runner-up finish in Class 4A 145-pound competition.
"I think it helped Matt a lot, because he got to see a good kid from Iowa and Chris Alt from Abilene," Neil said. "Those were losses, but those were valuable losses, because he learned from them. It's real important to go out and see that competition."
Wrestling against strong competition, much like in the home classic, benefited the Bobcats. More scheduling changes will be made in order to increase the talent pool that Basehor-Linwood faces.
The team will make the long trek out to western Kansas when they participate in Garden City's tournament. Neil hopes that beefing up the non-league schedule even more will help his squad in the long run.
"I think one of the things that's really helped our program is going out and seeking other programs," Neil said. "I hope the rest of the Kaw Valley League does that. I don't think it helps them to go out and beat up on each other all the time.
"There are different styles all over the state," said Neil. "Some people like to wrestle on the mat, others on their feet."
The Bobcats finished with a 6-2 league dual record and a third-place standing at the KVL Championship Tournament, which BLHS hosted. Basehor-Linwood also took a second-place team showing at the Dick Burns Mart Classic at Bonner Springs.