Bobcats thrive after changes
Change trickled down everywhere before the season began, but a fire burned within the Basehor-Linwood boys' basketball program. Moving into a new facility, while making a surprise coaching change by firing longtime head coach Don Mills added fuel to the fire.
But in the end, first-year head coach Dan Miller cooled off the flames and ignited a surge throughout the Kaw Valley League as he guided the boys to a 15-7 overall record, which turned out to be a nine-game improvement from the previous year.
Using a strong starting formula consisting of five seniors (Colby Kooser, Jackie Kimlin, Brandon Fisher, Mike Horn and Travis Fouts), the Bobcats fed off each other's play which led them to a tie for second-place in the Kaw Valley League.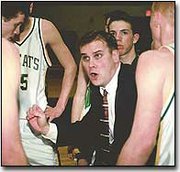 "I was very proud of our senior guys," Miller said. "They provided tremendous leadership in a tremendous season. We had a lot of good things happen in our program and those five senior guys have been the leaders and we're going to miss them."
Those five seniors, who have played basketball together since the third-grade level, were the catalysts to a successful 2000-01 campaign.
After opening the season with two losses in three games, Basehor-Linwood cruised all the way to its inaugural tournament title game riding an eight-game winning streak. Along the way, the Bobcats handed then-ranked Mill Valley its first loss of the season and earned hard-fought road wins at Tonganoxie and Immaculata.
A collapse in overtime to Fort Scott denied the Bobcats of first-place honors, but the standard of play had been set.
However, the tough overtime defeat sent Miller's club on a four-game losing streak.
The Bobcats found the cure by ending season with a five-game winning streak. Epic battles against Lansing, where a controversial Brandon Dye trey propelled BLHS to a overtime win, and Mill Valley gave the squad some much-needed momentum heading into the post-season.
After defeating Lansing for the third time in the opening round of Sub-State play, the Bobcats had dreams of clinching a State berth on their home floor.
In tragic fashion, the Bobcats posted their largest offensive output in their final game, losing to Spring Hill 84-76 in the semifinals of the Class 4A Sub-State Tournament.
Fouts and Kimlin received KVL first-team All-League honors for their superior play throughout the season.
The Bobcats defeated every KVL opponent, except league champion Piper, at least once over the course of the season.
"We're really proud of our kids," said Miller. "They did everything that we asked them to do and gave a tremendous effort all year.
"When we take a look back, I think we'll be proud of ourselves, proud of the effort and proud of the season that we've had," he added. "We've accomplished some very good things."


Basehor-Linwood Bobcats
2000-01 Basketball Season
Overall: 15-7
League: 12-4, tie-2nd
Dec. 1 BONNER SPRINGS L, 55-64
Dec. 5 at Santa Fe Trail W, 45-36
Dec. 8 PIPER L, 49-59
Dec. 19 at Tonganoxie W, 57-47
Jan. 2 PERRY-LECOMPTON W, 72-54
Jan. 5 at Immaculata W, 57-44
Jan. 6 LANSING W, 57-43
Jan. 9 MILL VALLEY W, 56-50
Jan. 11 DESOTO W, 62-32
Jan. 15 Hyman Brand Academy W, 48-40
Jan. 18 Park Hill W, 45-38
Jan. 20 Fort Scott L, 65-79 (OT)
Jan. 23 at Santa Fe Trail L, 54-53
Jan. 30 TONGANOXIE L, 45-55
Feb. 2 at Piper L, 53-60
Feb. 13 at Perry-Lecompton W, 62-49
Feb. 15 at Lansing W, 74-72 (OT)
Feb. 16 IMMACULATA W, 69-62
Feb. 20 at Mill Valley W, 48-47
Feb. 23 at DeSoto W, 54-41
Feb. 26 vs. Lansing W, 72-54
March 1 vs. Spring Hill L, 76-84