Bravettes had record-setting winning season
The goal was 14 victories.
The final result produced 17.
Enjoying a spectacular 17-5 season, the Bonner Springs Bravettes had much to celebrate about this season.
Setting a school record for wins, nearly earning a berth in the Class 5A State Tournament and winning a share of their first-ever Huron League regular season crown were just some of the highlights that the Bravettes had.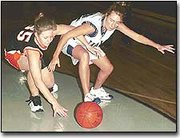 An 8-2 finish earned Bonner Springs a tie atop the Huron League standings with Ottawa.
Bonner Springs opened the season by catapulting with eight wins in their first nine games.
Close victories over league foes Bishop Ward and Sumner Academy as well as KC Central, fueled an 8-1 start.
Regular-season highlights of the season shined brightly when the Bravettes edged co-champion Ottawa in overtime on Feb. 6.
Just nine days later, the girls defeated Sumner Academy on the Sabres' home court, which clinched a share of the Huron League title for the Bravettes.
The road victory was just one of just eight consecutive victories that were reeled off by the Bravettes before falling to Topeka Seaman in the Class 5A Sub-State championship game.
Winning those eight games were not easy, however, as six victories came in the span of just eight days.
Bonner Springs then propelled itself to the Class 5A Sub-State title game with a thrilling 44-42 win over Washington.
The only true lowlight of the season came at the Basehor-Linwood Invitational, when the Bravettes were stunned in the semifinal round by Lincoln Prep. A loss in the consolation game to St. Joseph Benton dampened the mood of the girls, but the squad quickly refocused.
In just his fifth season on the sidelines, Bonner Springs head coach Garold Baker mixed youth with experience, which allowed the Bravettes to reach new heights.
The previous season set the wheels in motion for the Bravettes, who played four freshman on the varsity level.
In turn, those four freshman became four of the top six scorers as sophomores, giving the BSHS girls' program a chance for growth in the near future.
Bravettes' sophomore Amanda Berry led the squad in points (273) and rebounds (114), while averaging 12.4 points per game.
Berry was followed on the scoring list was sophomore Andrea Dill (8.0 ppg), senior Alicia Forshey (7.6) and sophomore Lindsay Stanbrough (7.3).
Sophomore point guard Morgan McConico led the Bravettes in assists (112), averaging just over five a game. McConico also topped the charts in steals (69).
With the addition of a new gymnasium, the interest of Bonner Springs girls' basketball is high. With four starters returning for only their junior season, the benchmark could be raised.
Bonner Springs Bravettes
2000-01 Basketball Season
Overall: 17-5 League: 8-2, tie-1st
Date Team Result
Dec. 1 at Basehor-Linwood W, 55-42
Dec. 7 at Mill Valley W, 55-40
Dec. 14 KC Christian W, 48-35
Dec. 18 KC Central W, 49-44
Jan. 3 at Bishop Ward W, 46-42
Jan. 5 at Ottawa L, 42-52
Jan. 9 Atchison W, 51-37
Jan. 11 Sumner Academy W, 49-44
Jan. 16 Fort Scott* W, 52-42
Jan. 18 Lincoln Prep* L, 53-66
Jan. 19 St. Joseph Benton* L, 33-34
Jan. 29 at Turner W, 60-35
Feb. 1 Bishop Ward L, 39-52
Feb. 6 Ottawa W, 47-43 (OT)
Feb. 14 at Atchison W, 65-51
Feb. 15 at Sumner Academy W, 45-43
Feb. 17 Harmon W, 60-28
Feb. 20 at Wyandotte W, 59-47
Feb. 21 Tonganoxie W, 46-39
Feb. 22 Turner W, 61-32
Mar. 1 Washington W, 44-42
Mar. 2 Topeka Seaman# L, 32-53
= Basehor-Linwood Invitational
#= Class 5A Sub-State Tournament