Lady Cats hope to continue success
Perhaps the giant step taken by the Basehor-Linwood Lady Bobcats softball program was at Mulvane last year, as the 2000 squad returned home with some hardware from the Class 4A State Tournament.
After being denied of any prize the previous two years, the Bobcats avoided a first-round knockout and came away with a third-place finish to cap a 20-5 season.
Basehor-Linwood opened with a 5-0 win over Prairie View, then was edged by eventual champ Augusta in a 3-2 thriller. The Bobcats rebounded with a 2-1 victory over Pratt to win the third-place trophy.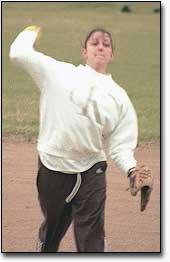 "Anytime you get third place in a State tournament, it's got to give you something to build on for the next year," said Basehor-Linwood head softball coach Susan Mayberry.
That's exactly what Mayberry is hoping for with the 2001 Lady Bobcats edition.
Losing five senior letterwinners (Kendra Barron, Trina Ellifrits, Bridget Hampton, Kara Reed and Kacy Roe) from last year means finding players to fill the huge void.
"Anytime you lose five leaders in the seniors that we had last year, there are big shoes to fill," said Mayberry. "They brought experience, passion for the game, work ethic and they were on a mission. They set the tone from the first day of practice."
"We're looking for five spots to fill," Mayberry added. "There's going to be some opportunities for a group of juniors and whether or not they come through is yet to be seen. I still feel that we have the players that can step up to that challenge."
Strengths for the Lady Bobcats will be their battery combination of junior pitcher Courtney Reed (19-3, 0.51 ERA, 176 K) and senior catcher Jackie Horn. Both were first-team All-League selections in the Kaw Valley League last season. This will be the third straight year that the duo has worked at the varsity level together.
"Courtney is going to be our workhorse and she's going to establish the tone for our team and I think she's capable of doing that," Mayberry said.
Both can equally do damage at the plate as well. Reed led BLHS with a .420 average and 24 RBI. Horn hit a team-high five home runs while driving in 21 runs at a .291 clip.
Also returning from last year's squad are seniors Kelly Laffere (.250), Stephanie Larson (.192) and junior Kara Lackner (.268). Laffere and Larson will hold down the left side of the field defensively, playing shortstop and third base, respectively. Laffere and Lackner, who will play centerfield, received KVL second-team honors.
"I'm looking at the returning letterwinners to step up and take charge of this team," said Mayberry. "It's up to them what kind of team we want to have."
Other contributors to watch will be juniors Lesley Hancock, Emily Hoffman, Christina McCarty and sophomore Cristin Burnett.
"I think maybe the experience of playing on varsity could be a weakness, yet I think we have the people that if they study the game, I think we'll be just fine," Mayberry said. "It may take us a couple of weeks into the season to get a feel for each other."
Basehor-Linwood finished with a 5-1 league record last spring, taking second behind DeSoto in the Kaw Valley League. Due to a split in the DeSoto school district, most of the varsity letterwinners have moved over to the new school in Mill Valley.
Some of the teams to watch this year in the KVL will be Piper, Santa Fe Trail and Mill Valley.
"We'd like to think we're in the mix with those teams, but our conference is tough," said Mayberry.
With three straight appearances at the State tournament, Mayberry has said that the seniors have talked about making a four-peat this spring, but insists that the girls are taking the season one game at a time.
"We set our goals and obviously we've had success in the past, so we like to expect that coming out from day one. But that's down the road and we're just focusing on one day at a time."
The Lady Bobcats open the season on Thursday, March 29 hosting a doubleheader against Bonner Springs at 4 p.m.
Piper will host the Class 4A Regional Tournament, with Baldwin, Bishop Ward, DeSoto, Eudora, Mill Valley and Sumner Academy.