Pfannenstiel to finish term in office
Mayor withdraws from mayoral race following conviction
Despite his recent conviction on felony sex charges, Basehor Mayor John Pfannenstiel said he will remain in office until his term expires April 16.
Pfannenstiel, however, will not seek re-election for the office of mayor and will be supporting write-in candidate Chris Garcia.
"The bottom line is, the jury made their decision and that in a certain point in time a judge will make a sentence, and they will enter a journal entry on a court record and my conviction will be final, at least for now," Pfannenstiel said. "Until that time, I continue to be eligible for public office and I will remain in office as the mayor of Basehor until my term expires on April 16."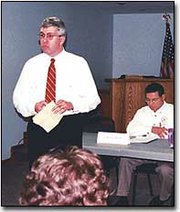 According to the Leavenworth County District Attorney's Office, Pfannenstiel is eligible to hold public office until a guilty verdict is entered into court record.
Although Pfannenstiel said he would stay in office, he will not seek re-election on April 3. Instead, he will endorse City Council President Chris Garcia as a write-in candidate for the mayoral race.
Pfannenstiel called a press conference Saturday afternoon at Basehor City Hall to introduce Garcia and to address his supporters. Pfannenstiel also spoke at the beginning of the mayoral forum and said even though his name is still on the voter ballot, he doesn't want any votes.
"There are still people out in the community that support me," Pfannenstiel said. "They may want to show that support by voting for me on April 3. I am here to say that I don't want a single vote. If you think that I have done a good job as the mayor, if you want to see the work that I have started continue, go to the polls on April 3 and write in Chris Garcia.
Pfannenstiel said that prior to his trial, a plan was devised for Garica to file as a write-in candidate in the mayoral race should Pfannenstiel be convicted.
Pfannenstiel was found guilty Friday of having sexual relations with three inmates when he was a corrections officer at the Lansing Correctional Facility.
A jury of 10 men and 2 women, deliberated for almost seven hours before rendering a verdict shortly before 10 p.m. at the Leavenworth County District Courthouse.
Although convicted of the sex charges, Pfannenstiel was acquitted on charges of bringing contraband a watch battery and a pair of jeans into the prison.
"To this date, I have not commented on these charges," Pfannenstiel said following the verdict. "The prosecution painted a pretty barbaric picture that anyone who knows me at all knows I am not capable of doing. I never took any contraband into that prison and I never touched any of those individuals."
A post-trial motion hearing is set for April 4. A sentencing date has not yet been determined. Pfannenstiel faces a minimum of five months and a maximum of 21 months in prison on each count. However, Leavenworth County Prosecutor Roger Marrs said the sentence could be commuted to probation.
Pfannenstiel said the guilty verdict would not faze him or his family.
"My family life is solid, my wife is solid and my conscious is clear," Pfannenstiel said. "The people I feel for are the citizens of Basehor."
Pfannenstiel said he didn't know what his future in politics would be, but he did speak against mayoral candidate Bill Hooker.
"Bill Hooker would set the city of Basehor back 25 years," Pfannenstiel said. "As the election has shaped up, I have become convinced that it would be a disaster for Bill Hooker to be elected mayor."
Following the trial , defense attorney Terry Lober said the jury's verdict was inconsistent with the evidence and he will prepare a motion for an appeal on April 4.
"How the jury could believe the sex crimes occurred, but not the contraband crimes, is inconsistent," Lober said. "I don't know why the jury decided the way they did, but we are going to seek judicial review on every level."
Much of the case against Pfannenstiel centered on the testimony of Charles "Opie" Jones, an inmate who said he and Pfannenstiel had several sexual encounters at the prison.
Lober said the defense wanted to enter a document into evidence that would prove Jones had lied, but the document was ruled inadmissible by the judge.
"Charles Jones signed a statement admitting that everything he said was a lie," Lober said. "It was inadmissible because Jones denied he signed it."
"John Pfannenstiel is not done yet," Lober added. "You have not seen the last of John Pfannenstiel legally or politically."